Gail's Birthday Sale & Announcements


SALE BEGINS WEDNESDAY APRIL 12, 8 AM Eastern Time ~ ENDS 3 PM Eastern Time
The official sale page information will be posted by 8 PM the evening before for preview.
Orders received just before the sale will be given any sale discounts.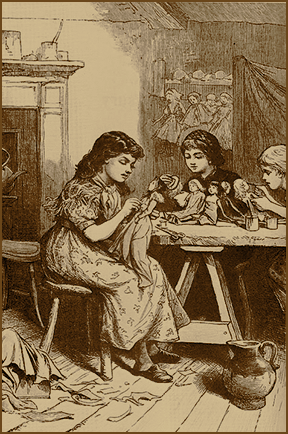 THIS IS THE SALE: 10% off all regular priced kits, patterns and supplies (excludes already discounted items),
and 10% off one finished item.
FOR SPRING - Extra sale on all rabbits and primitive animal patterns due to the season - 25% off these (see list below).
FOR ANOTHER BIRTHDAY - It is Izannah Walker's 200th birthday this year, so all of my Izannah Walker kits and patterns have a special sale price - 25% off these (see list below).


SALE BONUS ~ A SMALL 2-1/2" PRINTED CAT KIT GIVEAWAY WITH ORDERS $50 OR MORE
Note: You do not have to order this if your order is $50 or more - we will automatically include one.
If your order is less than $50 or you would like extras, you may order below.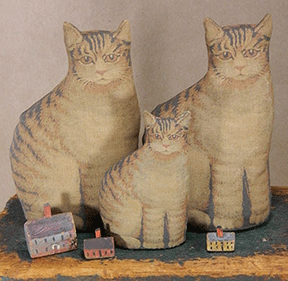 THE STORY: This is a long long story involving getting a new size of the much loved printed cats shown above. A good friend and customer, Jocelyn Benzaia, has been my supplier of the reproduction prints of the cats that I sell finished in a 3" size (shown center front) and the 5" size (shown in the back row). However, in trying to get to an even smaller size for Hitty (1-1/2" tall), I ended up acquiring through a simple mistake in ordering, scores of a 2-1/2" size, which I did not want. Thus the idea to give away one as a kit for every order of $50 or over. The kit has one set of printed parts - front, back and bottom - plus instructions for how to make. Spare ones can also be purchased using the link below. Note: You do not have to order this if your order is $50 or more - we will automatically include one. If your order is less than $50 or you would like extras, you may order below.

Extra Printed Cat Kit $10 Add to Cart

TERMS OF SALES (please read)

SALE PRICES AND DISCOUNTS DO NOT SHOW IN CART :
Please note that the only prices that will reflect sale discounts are those items with links on this page. All other stuff ordered on other pages will not have sale prices show up in your cart, unless it states otherwise - we will apply the discounts here when we invoice.

WHEN IS YOUR ORDER CHARGED?
Remember that when you place an order on my website, even though you give your credit card info, they are not automatically charged. Rather we manually collect the orders and then manually charge here after we apply any discounts. In cases where you order something that will take more time (for me to make it), we charge a deposit (20% - non-refundable) then the balance when the order is ready to ship.

CONFIRMING ORDERS:
You will receive an automatic response to placing an order online, but I will follow up with an individual response once I see what is on your order and can then determine a shipping date. Usually orders that contain finished dolls will take longer due to GW making each order as it is ordered.

A NEW FEATURE: Many of you order multiple times during a sale - which I appreciate greatly. But it becomes difficult and to be honest, crazy, keeping track so that we can combine orders for more economical shipping and we miss a few. Also, many of you belong to my clubs and sometimes I am still shipping sale orders at club shipping time. Since you know if you are in a club, you can let us know so that if possible (only if the timing works) we will combine with your club shipping.

Click Here if you want to combine multiple orders when possible

Click Here if you are already in a club and would like your sale order sent with your club (when possible and if in close timing with club shipping)

LAYAWAYS:

Layaways are always an option. See menu item "Ordering Info" at the top of the page and go to Layaways in the dropdown.

All Layaway terms apply.

SALE DISCOUNT EXCEPTIONS:




All items already discounted may not be also on sale, clubs cannot be included and sale discounts only apply to items already in production (unless otherwise stated) and may not be applied to orders already in place. If some items sell out, you may be offered a raincheck for the same sale discount with a later delivery.
THE ITEMS BELOW ARE SOLD AT THE PRICES SHOWN FOR EACH ITEM AND DO NOT GET AN ADDITIONAL SALE DISCOUNT

NEW FAT QUARTER BUNDLES IN GREAT SMALL BROWN PRINTS
6 New small prints in browns. Being in the vintage look business, always on the lookout for good browns in the right scale. $18.00 each Add to Cart

Note: The top fabric has a nice rosey-brick accent poorly shown in the picture.

PRIMITIVE ANIMAL PATTERNS

25% off these Patterns:

Primitive Animal Pattern #1 (Upright rabbit, pig, dog, lamb) $18.00 - on sale for $13.50 Add to Cart
Primitive Animal Pattern #2 (Elepant, crouching rabbit, cat, horse) $18.00 - on sale for $13.50 Add to Cart

7" WOOL RABBITS SET - BOY & GIRL

Boy has overalls and shirt; girl has pantaloons, dress and apron, plus two new variations I could not resist including for her clothes. Patterns and Instructions sold from old kits.
Pattern for Both Rabbits $12 - On sale for $9 Add to Cart

THE RABBIT PATCH & WHEELBARROW
Makes Two 2-1/2" tall felt rabbits in jacket and clogs and flowered apron. Together they share their felt basket of carrots and their tiny wooden wheelbarrow. These are actually the very same fabrics and colors used in the original kit from 1982. This kit is brought back with updated patterns and the original painted wooden wheelbarrow included (used to be a separate kit). Limited quantities.
Price $42 - On sale for $32 Add to Cart




Two Finished Rabbits

made long ago and just discovered under my work table in a box. One is velveteen and one is mohair. They are 9" tall wearing little jackets. Prices shown are sale prices.
Velveteen Rabbit $85 Add to Cart
Mohair Rabbit $95 Add to Cart

Beloved Dollmaker, Izannah Walker, was born on September 25, 1817, so this year marks her 200th birthday. There can't be a single doll that has been so inspiring to both collectors and contemporary dollmakers than her charming dolls. To celebrate her 200 years, all of my Izannah kits and patterns (not finished dolls or clothes) are25% off. You can find them by clicking on Dolls by Type in the top menu, then look under Molded Dolls.
Sale discounts will not show up in your cart on these items but we will apply.

A Small (8") Version of an Izannah Walker Inspired Doll
The two dolls being offered here are prototypes for new smaller versions of my own Izannah dolls. Molded papier mache heads on cloth bodies. Each will come with a stand. $375 each. Add to Cart




Very Very Special Tiny Buttons - This is a one-time offer. I recently came upon a finite amount of the best tiny button ever. It is a tiny 4mm size, but unlike the other very tiny 4mm buttons I have been selling, these are nicely molded with no mold marks and have a nice rim around them. The best part is they are made from a translucent plastic that looks close to the old mother of pearl buttons I took for granted for many years and now are gone. They are appropriate for most sizes of doll from Hitty up to 18". We have overdyed them to an antique white furthering the look of real pearl. They will not be available on my website. Packages of 20 for $9.50 (very expensive, but rare and worth it). Add to Cart (sale discount will not apply).

Two Lithographed Style Noah's Ark and Stack of Blocks - Finished Sets on Sale

This classic toy made in doll scale for use as a display item in doll settings. Pre-cut wooden pieces are first painted then the printed lithograph-inspired pieces are cut out and "wall papered" to the wooden pieces. A stack of wooden blocks has all sides papered with the two-by-two animals that are part of this Biblical story.
$38 Add to Cart

Finished Set regular price $78 On sale for $68 Add to Cart
Kits are part of the sale and can be seen by going to the "Other Items" in the menu then choosing "Doll Accessories and Other Toys"

Two Tiny Wooden Noah's Ark Sets (finished) on Sale

This is a favorite revisited from my old discontinued kits. This pulltoy ark set is very small and is a good sized toy for smaller dolls including Hitty, but could be a good toy for any size doll or Santa. The set has pulltoy ark on wheels, Noah, and 4 pairs of animals on small bases. The kit has complete paints and instructions and is pretty easy kit in spite of scale. Ark is about 2 inches long and animals are less than 1/2" tall.

Finished Set with Book regular price $125 on sale for $95 Add to Cart


Kits are part of the sale and can be seen by going to the "Other Items" in the menu then choosing "Doll Accessories and Other Toys"

NEW KIT - THE 8" MILLINERS MODEL (and part of my birthday sale!)

The dolls for this new kit have papier mache heads (all molded from my own originals) with easy to carve wooden limbs and cloth bodies. I think it is a moderately easy kit and the doll is a wonderful not-too-small scale. They will have the traditional blue bands securing limbs to bodies. Kits will include parts for the dolls (head and wood arm leg and foot blanks), body fabric, wool stuffing, necessary paints to make the doll including a new paint to make cheeks easier, plus fabric & notioins for her lace trimmed undies and a special cheek brush for the best cheeks. Patterns for two outfits (one is a simple period dress shown above right, the second is her fancy gown - not shown in picture) are included for you to use with your own choice of fabrics and trims.

Milliners Model Kit $95 On sale $85 Add to Cart
Option for head to be pre-painted $25 fee Add to Cart (no sale discount)
Optional wood stand $18 Add to Cart

SPECIAL EDITION IZANNAH WALKER WITH WARDROBE, ACCESSORIES AND CLOTH COVERED STORAGE BOX ~ A CLUB

In late March I am planning a new very special club. Several years ago, I took orders for a 13" Izannah with a small wardrobe and a carry case for all. But like a few other projects (notably my large furnished doll house and the Early American Doll Series as first conceived as one whole unit), the old math axiom - the whole is equal to the sum of its parts - did not hold true. With such a limited "staff" it is almost impossible to fit in really large projects. Another large obstacle was finding just the right group of fabrics that "worked" together but were only related in certain ways but were also the right scale and drape. What began to happen as I did start to design all the pieces and collect some of the fabrics, was that with the largess of the internet, more and more study material came my way causing me to expand the number of items to include with this doll. And over time as I painted many many Izannahs in several sizes, I also wanted to improve the doll herself. So this is where I met neverland. I felt I needed to cancel the idea and the several orders people placed - the project was simply too big to do and still make ends meet in between. Yes, there is still that. Then I remembered my clubs. Why not? This makes it work. The idea is I need about 12 people (including the ones I already have) to be part of this club. There will be a 12-13" doll, many outfits typical of those seen on antique Izannahs and including undies, bonnets, cloak, shoes, many accessories and a special cloth covered box or trunk to hold it all. This is still not quite fleshed out, but initial ideas have about 10-12 shipments at about $175 each with an initial deposit held to the end. If you are interested in this wonderful set through a club, please use the link to let me know. No money will be taken yet until you have received more definite information.
Add to Cart if Interested
HITTY NEWS - Hitty's trunk is still getting details worked out for those of you who have been waiting patiently (or impatiently) - expect for sure in May. To fill the gap I have made a very tiny flat-bottomed antique printed cat just right for Hitty. It is only 1-1/2" tall and cute as a button. Hitty's Old Fashioned Early Sewing Machine is also in the works.

HITTY'S TINY PRINTED CAT
(First sent to Hitty Club members in April)

Note: The cat for Hitty is not the same one as mentioned above. Hitty's tiny cat (only 1-1/2" tall) is new artwork adapted by me from an antique original by the Arnold Printworks 1876/Patented 1895. The cat above as a promotion for the sale is a larger cat (2-1/2") provided for me from Jocelyn Benzaia of the Cornish Crone and printed by Spoonflower.
THE PINCUSHION DOLL NOW IN PATTERN ONLY FORM AS WELL AS KIT
With this pattern you can cut your own wood pieces or if you feel wood cutting challenged, there are suggestions for some acceptible alterations that only require some cardboard cutting. $18 Add to Cart
THE DISNEY DOLL (an old favorite) IS NOW IN PATTERN ONLY FORM
Patterns and Instructions including the face stencil $18 Add to Cart
PATTERNS BECOMING AVAILABLE IN PDF FORMAT ~ Saves shipping for international customers. Please email me if there is not a PDF link for the pattern you would like. Please note that in the case of the little extras sometimes included with some patterns (for example, a stencil for the face), you would not receive any extras. At this time, Hitty patterns are not available in PDF format.
HINTS:
During my recent (and prolonged) bout with bronchitis, I discovered a wonderful treat. I make chamomile tea (I do mine the easy-fast way in the microwave) and then while still too hot to drink I toss in a lemon ice cube. We buy big bags of lemons, squeeze them into ice cube trays then put in bags in the freezer for whenever lemon juice is needed. I found this made the tea not only delicious, but the lemon ice cube turned the too hot tea to drinkable in a few seconds.
Email: gailwilsondesigns@gmail.com
Phone: 603-835-6551




I have yet to sell anything on Ebay and yet I really do need to unload some extras. I don't live where a real live garage sale would be worth the time, so this will be my cyber garage sale. New items get added as I find them and when many are added I send an email to those who signed up for the Garage Sale List.

TO SEE CURRENT GARAGE SALE ITEMS CLICK ON THE GARAGE SALE LOGO


AN UNUSUAL OPPORTUNITY - ARE YOU INTERESTED IN A BUSINESS LIKE MINE?
Well, to be more accurate, exactly my business. I do not want to retire, but I live in an area where I cannot hire new people having lost 3 out of 5 of my critical staff and am currently losing a few home workers who are aging out. I cannot face moving from this place which we love, which is what it would really take to continue. Instead of slowing down and enjoying my grandchildren I am working harder than ever as I try to do it all. If you are interested, seriously interested, not just curious, or if you know of someone that seems like a perfect fit, you can send me an email (see below) and shortly I will send you my proposal. I had once hoped to turn the production over to my daughter, but doesn't look like it will happen and I doubt I would last long enough to give it to my granddaughter (just 6) even if she were to want it. I would love to continue to design new things and make finished dolls and what I envision is to sell the several hundred products I have made over time in the form of kits and patterns, supplies, etc. There are fabulous opportunities for someone with real desire and drive to bring back old lines, go to shows and get back into selling to shops, publishing in books, etc, etc. Possibly put some former lines of kits into finished only series of quality toys. All of the stock and supplies are so well organized that if a person had a similar space, you could take digital pics of how it is all set up here, pack it in a moving van, put it all back in a similar fashion and be in business. This is not a fully fleshed out idea yet, but I have just begun to take it seriously enough to really talk about it. No one should take this that I am going out of business, just a shift and only maybe. Otherwise I am here, still making dolls, still filled with new ideas.

To email about this business opportunity, please use the email below but put Opportunity in the Subject line.
603-835-6551 (phone)
gailwilsondesigns@gmail.com (email)