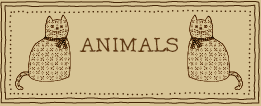 PRINTED CATS WITH GW SPECIAL AGING

These printed cats are done for me by the yard by Jocelyn Benzaia, a friend and customer. But since I like mine to look as old as a small collection I had but which has now disintegrated due to real age and exposure to light (I used to use them as photo props until they fell apart), I age these two sizes and you would never know they weren't over 100 years old like the originals and stuff them with real wool. These will last for another hundred years as props in your doll setting or use the small size as an accessory to larger dolls (16-18").

Small is 3" tall $24 Add to Cart
Large size is 5" tall $28 Add to Cart.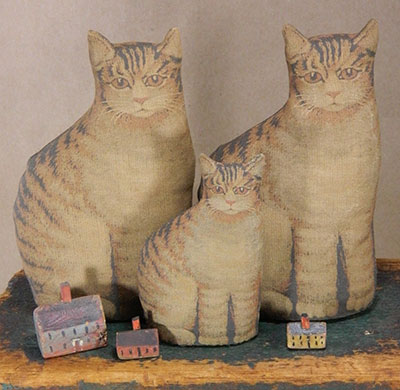 PRIMITIVE ANIMALS

PRIMITIVE ANIMALS


I have a small collection of antique primitive cloth animals, but because they are rare, I only have a few - two dogs, two cats, a lamb and one questionable species (dog or rabbit), but charming nonetheless and my favorite one. There is something so straight-to-the-heart about these sweet playthings, often sewn from old coating or other scraps and stuffed with rags. Like primitive dolls whose shapes are often pared down to the essentials (keeping in mind that most of these dear things were not made with patterns), it is this naive look that appeals. Most often one finds them in old dirty whites or browns as these coarser weaves were common, so most of mine will also be in these grungy tones. The patterns will inspire you to make them in many types of fabrics, one more endearing than the next. The animals are divided up into two patterns as well as kits for each one and completely finished.



SIZES OF ANIMALS:


Upright Rabbit 8-1/2" tall
Upright Cat 7"
Sitting Dog 6"
Pig 5"
Crouching Rabbit 5"
Elephant 7"
Crouching Cat 6"
Lamb Pulltoy 7"
Horse Pulltoy 7"

PATTERN PRICES: (Patterns will not be discontinued)
Primitive Animal Pattern #1 (Animals 1 - 5) $18.00 Add to Cart
Primitive Animal Pattern #2 (Animals 6 - 9) $18.00 Add to Cart

KITS - are discontinued in favor of the more popular patterns.


FINISHED
1 Upright Rabbit $68.00 (No longer available)
2 Upright Cat $38.00 (No longer available)
3 Sitting Dog $42.00 (No longer available)
4 Pig $42.00 (No longer available)
5 Crouching Rabbit $38.00 (No longer available)
6 Elephant $68.00 (No longer available)
7 Crouching Cat $42.00 (No longer available)
8 Lamb Pulltoy $68.00 (No longer available)
9 Horse $68.00 (No longer available)

Note: I still plan to do the official patterns for the smaller animals shown below in the color pictures.

PRIMITIVE ANIMAL SUPPLIES

EYES


Glass eyes have wire loops to sew on. Use for my Primitive Animals.
Sets of two pair.
Small (4mm) Brown with Black Centers $3.00 Add to Cart
Large (5mm) Brown with Black Centers $3.00 Add to Cart
Small (4mm) All Black $2.50 Add to Cart

NOTIONS
•Rusty bells for Lamb $1.00 (pkg of 4) Add to Cart
•Wooden wheels and axles $5.00 (one set) Add to Cart
•Platform for Lamb Pulltoy with wheels, axles, paint $9.50 set Add to Cart
•Cat Bases for the Upright Cat $3.00 Add to Cart

Here are the animals made up in prints:
7" WOOL RABBITS - BOY & GIRL


Now sold as a set. Boy has overalls and shirt; girl has pantaloons, dress and apron, plus two new variations I could not resist including for her clothes. Patterns and Instructions sold from old kits.

Pattern for Both Rabbits $12 Add to Cart

THE RABBIT PATCH & WHEELBARROW


Makes Two 2-1/2" tall felt rabbits in jacket and clogs and flowered apron. Together they share their felt basket of carrots and their tiny wooden wheelbarrow. These are actually the very same fabrics and colors used in the original kit from 1982. This kit is brought back with updated patterns and the original painted wooden wheelbarrow included (used to be a separate kit). Limited quantities.
Price $42 Add to Cart
Finished Set for Last Call $78 SOLD THE LAST FINISHED ONES