DOLLMAKING ODDS & ENDS


BUNDLES OF FABRICS ~ These are made up from fabrics chosen for their appropriateness for doll making. Bundles will change from time to time as they become available and will change from time to time so keep checking back to see what is available.
CURRENT BUNDLES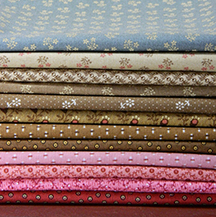 MIXED BUNDLE OF DOLL-SIZE PRINTS

12 Fat Quarters in doll scale prints. $36 Add to Cart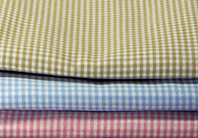 BUNDLE OF WOVEN FINE WEIGHT GINGHAMS

These were a true high light of long searches. I needed yardage for my Annabelle series and the size check in the gingham needed to be small. What luck to find these and such a beautiful drape and weight for even small dolls. 1/16" checks. And, it is extra wide (60") which means the fat quarters are bigger (18" x 30"). Tan, light blue and pink. And did I mention they are even better for a vintage look with a wash of my paint overdye. $9.95 Add to Cart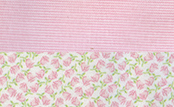 MINI BUNDLE (JUST RIGHT FOR HITTYS) Photo to come
Two tiny pinks coordinated for outfit sets. The micro check is a mere 1/32" check (hard to see in the picture) and the print is also one of the tiniest - both are suitable for small dolls. These are the extra wide width (60") which means the fat quarters are bigger (18" x 30") and of course 100% cotton with good drape. $6.75 Add to Cart


CHRISTMAS KITS - EVEN MORE SAVINGS
THESE WILL BE THE LAST OF THESE KITS WHEN THE PRESENT STOCK RUNS OUT
All remaining stock is now reduced to half off the previous Sale prices

NEW PRICE REDUCTION - THESE HAVE TO GO!
TAKE A FURTHER 20% OFF PRICES SHOWN.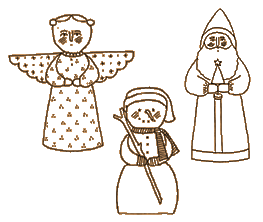 The kits listed right here are an amazing 1/2 off the previous sale price (yes off the sale price!). To read more about each of these kits go to Dolls by Type in the main menu, then choose Holiday/Christmas.
The prices below are the reduced sale prices and will show up in your cart. The NEW further reduction of 20% will not show up in your cart until we invoice your order here.

The List of Re-Issued Kits (see more about each one on the Christmas page found in the menu):
Linsey-Woolsey Angel $24 Add to Cart
Very Small Angel $14 Add to Cart
Set of Angel Ornaments $16 Add to Cart
9" Painted Cloth Santa $16 Add to Cart
8" Painted Cloth Angel in Muslin and Lace $16 Add to Cart
Two 8" Painted Cloth Angels in Country Colors kit $19 Add to Cart
Three 5"Painted Cloth Angels in Country Colors kit $19 Add to Cart
Note: THESE ARE NOW SOLD OUT:
Two Very Small Santas
Very Small Snowman
Three 5" Painted Cloth Angels in Muslin and Lace
Treetop Angel
13" Primitive Santa
7" Primitive Snowman
12" Broom Snowman
11" Primitive Angel








OTHER DISCONTINUED KITS FOUND IN ATTIC CLEANING, RE-SUPPLIED WITH FRESH PAINT AS NEEDED:
To order any of the items below, click the button below to provide your secure information and credit card then check out as normal but type in the items you desire in the Notes box on the order form or email me separately with your order. Since there is only one of each of these, it is too labor intensive to use "Add to Cart" links. Prices shown are the clearance prices which will be invoiced here or added to another order if you are placing one.

THE LOVESEAT BENCH KIT FROM THE BASIC BEAR SERIES - $8
3" RAGGEDY ANDY KIT - SOLD
MAKE A GIRL & BOY PAIR OF 2.5" TALL DRESSED FELT RABBITS WITH FELT BASKET OF CARROTS -SOLD
8" BOY AND GIRL KIT FROM THE MUSEUM FOLK DOLL SERIES - $15 SOLD
KIT TO MAKE A DOUBLE WOODEN STAND FOR THE ABOVE 8" PAIR OF DOLLS - $5 SOLD
15" MISS COLUMBIA'S COAT AND BONNET KIT - $12 SOLD
15" MISS COLUMBIA'S TRUNK AND DIARY KIT - $15 SOLD
KATE GREENAWAY KITTED SET FOR BOY AND GIRL IN BLUES - $38 SOLD









A SHORT BED FOR HITTY:
Due to a special request from a Hitty customer who needed a short bed for her farmhouse style house where Hitty's bed was under slanted eaves (just like my own real house!) because the bed I make for Hitty's regular bed is a four-poster with a canopy rail which was much too tall. At first I told her I that there was no way to cut down the tall bed into one short enough for her needs. However, I remembered that I still had some of the posts from the Early American Doll Series that I could use with the Hitty headboard and side rails after some retooling. So my husband made 12 beds and we did the bed and quilt in different colors. So now if you need more beds for other Hittys or do not want the height of the canopy bed, here is the bed. Sorry, no kits. These are available for $188 which includes the bed, mattress, pillow, bedding and quilt. Add to Cart

PINS - The most unbelievably fine pins by Karen Kay Buckley in the shorter 1" length. Most beneficial for working in silks or other extra fine weave materials where normal fine pins still leave a hole. $9 per Tube container of 50. Add to Cart

PAINTED QUILT RACK (no quilt) from the Early American Series (it could also work for Hitty). Painted dark green. $15 SOLD

HITTY'S NIGHTGOWN AND NIGHTCAP - One set (cape and other bonnet not included) of nightgown and cap made as a prototype sample. Regular price $38, this set $32.
SOLD
Due to a request from a cross-stitcher customer who wanted to make more of the long discontinued Early American Series • Samplers, we dug out the linen mesh and all the original floss colors plus leftover stock of the wooden frames and with a reprint of the instructions and the addition of all the original materials, presto, quite a few kits to be had. $12 each sale priced. PS, these make a nice accessory for dolls sized 9" - 14". Add to Cart

HITTY PAPERBACK BOOK COVER KITS - Discontinuing this kit

Make a Cloth Book Cover

~ If you would like a more heirloom-looking book but have the paperback, order this small kit which will cover the book above (kit only fits the 5" x 7-1/2" paperback above) with a fabric print and a reproduction of the original title block to apply to the new cover, making it similar to the old books like the one shown below. Complete kit for cover only. Original price $20, on sale for $9 Add to Cart







NEWS - This was originally a one-time sale item but has proven to be very popular, so it will remain an item.
THE STORY: This is a long long story involving getting a new size of the much loved printed cats shown here. A good friend and customer, Jocelyn Benzaia, has been my supplier of the reproduction prints of the cats that I sell finished in a 3" size (shown center front) and the 5" size (shown in the back row). However, in trying to get to an even smaller size for Hitty (1-1/2" tall), I ended up acquiring through a simple mistake in ordering, scores of a 2-1/2" size, which I did not want. So, made up a simple kit to share in the bounty. The kit has one set of printed parts - front, back and bottom - plus instructions for how to make - you supply your own stuffing.

Printed 2.5" Cat Kit $12 Add to Cart
For larger sizes of printed cats see Other Items in the main Menu, then choose Animals
For the tiny Hitty size, see Hitty Accessories