NOTE: All prices shown here on the Garage Sale are the sale prices that will show up in your shopping cart.

I have yet to sell anything on Ebay and yet I really do need to unload some extras. I don't live where a real live garage sale would be worth the time, so this will be my cyber garage sale, maybe one of many. This first one is small, just some items I could gather quickly. I will be keeping The Garage Sale page and adding to it, so please check back once in awhile.

If you want to be on a list to get an email notice whenever new items are added, please click here to send an email. Just say Garage Sale List in the email.

APOLOGY TO MY GARAGE SALE LIST PEOPLE:
It never seems to fit into my work load to actually pull off uploading a whole bunch of things and then manage to email the List. I believe I only managed it twice. It only seems to work that I am able to add things as they come up and often within hours of uploading something new, someone has spotted it and claimed it. So, coming clean on this, I do manage to put most items here just in time for a sale.

DOLLMAKING ODDS & ENDS


BUNDLES OF FABRICS ~ These are made up from my fabric "library" being given up and sold off in color lots. Bundles will change from time to time as they become available and are made up of leftover fabrics used in my kits and cut up in fat quarters. Sometimes when a nice collection of small prints comes along I buy the collection as a set then sell these bundles. So keep checking from time to time.
NEW BUNDLE EXPECTED IN JANUARY 2018


CHRISTMAS KITS - EVEN MORE SAVINGS
THESE WILL BE THE LAST OF THESE KITS WHEN THE PRESENT STOCK RUNS OUT
All remaining stock is now half off the Sale prices.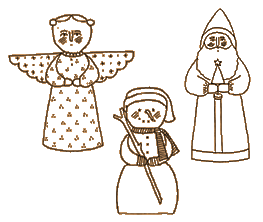 The kits listed right here are an amazing 1/2 off the previous sale price (yes off the sale price!). To read more about each of these kits go to Dolls by Type in the main menu, then choose Holiday/Christmas.
The prices below are the reduced sale prices and will show up in your cart.

The List of Re-Issued Kits (see more about each one on the Christmas page found in the menu):
Broom Snowman $19 Add to Cart
Linsey-Woolsey Angel $24 Add to Cart
Very Small Angel $14 Add to Cart
Primitive Snowman $16 Add to Cart
Set of Angel Ornaments $16 Add to Cart
Primitive Angel $16 Add to Cart
13" Primitive Santa $23 Add to Cart
9" Painted Cloth Santa $16 Add to Cart
8" Painted Cloth Angel in Muslin and Lace $16 Add to Cart
Two 8" Painted Cloth Angels in Country Colors kit $19 Add to Cart
Three 5"Painted Cloth Angels in Country Colors kit $19 Add to Cart
Note: THESE ARE NOW SOLD OUT:
Two Very Small Santas
Very Small Snowman
Three 5" Painted Cloth Angels in Muslin and Lace
Treetop Angel









THE PINCUSHION DOLL - Three last finished Pincushion Dolls as shown in browns (kits will remain available). Originally $295. These will be on sale for $275 Add to Cart

NOW $225

ATTIC FIND
CHRISTMAS CARD SETS:

Four of each of the three images opposite. Printed on high quality matte cards with matching envelopes. These were printed professionally back in 1991. Blank interiors. $12 set Add to Cart REDUCED TO $8 set

Velvets and twill above as follows:
Teal Velvet on top
Gold Velvet (richer than shown pic has a glare)
Olive Velvet
Rust Twill


LEFT OVER COTTON VELVETS & COTTON TWILL

After selling all the old Pincushion Kits, I still had quite a few yards of the rich colored cotton velvets used in some of the kits.

The rust colored cotton twill is nearly vintage at this point having purchased it almost 25 years ago! Kept saving it for a kit for a boy doll since that is what it was well-suited for - or a coat weight for a doll. Has a light brushed feel and nice drape.

I have not cut these up into smaller chunks in case larger pieces are desired. (For instance, if you want one continuous yard, click "Add to Cart" twice and we will give a continuous yard or more if you click more times for the yardage you want). First come, first served on quantities.


ALL THAT IS LEFT:


Rust Cotton Twill (44" wide) 7-1/2 yds available $5 per half-yard Add to Cart






THE STORY: This is a long long story involving getting a new size of the much loved printed cats shown above. A good friend and customer, Jocelyn Benzaia, has been my supplier of the reproduction prints of the cats that I sell finished in a 3" size (shown center front) and the 5" size (shown in the back row). However, in trying to get to an even smaller size for Hitty (1-1/2" tall), I ended up acquiring through a simple mistake in ordering, scores of a 2-1/2" size, which I did not want. So, made up a simple kit to share in the bounty - while they last. The kit has one set of printed parts - front, back and bottom - plus instructions for how to make.

Printed 2.5" Cat Kit $10 Add to Cart
For larger sizes of printed cats see Other Items in the main Menu, then choose Animals
For the tiny Hitty size, see Hitty Accessories






AN UNUSUAL OPPORTUNITY - ARE YOU INTERESTED IN A BUSINESS LIKE MINE?
Well, to be more accurate, exactly my business. I do not want to retire, but I live in an area where I cannot hire new people having lost 3 out of 5 of my critical staff and am currently losing a few home workers who are aging out. I cannot face moving from this place which we love, which is what it would really take to continue. Instead of slowing down and enjoying my grandchildren I am working harder than ever as I try to do it all. If you are interested, seriously interested, not just curious, or if you know of someone that seems like a perfect fit, you can send me an email (see below) and shortly I will send you my proposal. I had once hoped to turn the production over to my daughter, but doesn't look like it will happen and I doubt I would last long enough to give it to my granddaughter (just 6) even if she were to want it. I would love to continue to design new things and make finished dolls and what I envision is to sell the several hundred products I have made over time in the form of kits and patterns, supplies, etc. There are fabulous opportunities for someone with real desire and drive to bring back old lines, go to shows and get back into selling to shops, publishing in books, etc, etc. Possibly put some former lines of kits into finished only series of quality toys. All of the stock and supplies are so well organized that if a person had a similar space, you could take digital pics of how it is all set up here, pack it in a moving van, put it all back in a similar fashion and be in business. This is not a fully fleshed out idea yet, but I have just begun to take it seriously enough to really talk about it. No one should take this that I am going out of business, just a shift and only maybe. Otherwise I am here, still making dolls, still filled with new ideas.

To email about this business opportunity, please use the email below but put Opportunity in the Subject line.

gailwilsondesigns@gmail.com (email)