Annabelle Outfit for Hitty
Inspired by Tasha Tudor's beloved book A is for Annabelle
A new outfit for Hitty. After doing my big (9") Annabelle doll (see below), I realized the outfit could be made in Hitty size. The outfit consists of her pink gingham dress, an underdress in fine batiste trimmed with imported lace, pantalets to match, topped with a bonnet and her folded hankie embroidered with "A" for Annabelle. Kits have all pre overdyed fabrics and laces with all other materials to make all the pieces listed above. And for those who like to buy Hitty's things all made, finished outfits are now available as well.
Annabelle Outfit Kit $32 Add to Cart Finished Complete 5 Piece Outfit $118 Add to Cart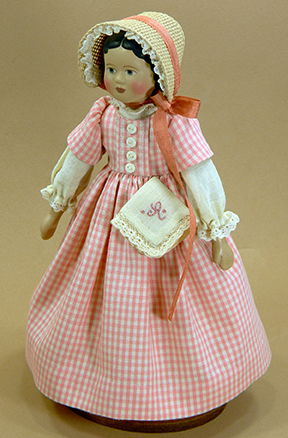 NEW PINCUSHION - AN EASY KIT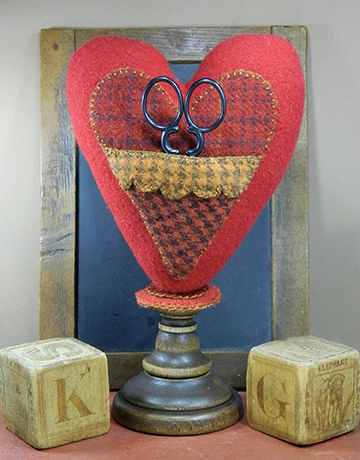 Hearts are not only for Valentines but are very collectible at any time - I have a large heart collection of antiques with hearts. This 8" tall (including wooden base) pincushion is made of hand dyed wools in the penny rug style and stuffed with wool roving which allows pins to glide in. This kit is very easy to do and can be made in an evening with relaxing (and addictive) penny rug hand sewing. Everything is included (stuffing too). All you will need is finish for the wood - this is explained in detail in the kit. Decorative scissors are optional (because you may want to store your own best 4" embroidery scissors) but for this sale there is a limited offer for scissors. If you have made others of my Pincushion collection from the past, this one fits in nicely.
Kits $48. Add to Cart
Decorative Scissors Offer - Antique Red handled scissors same shape as the black in the photo. $10.95 Add to Cart

TINY DOLL NO. SIXTEEN (2017) ~ MAGGIE BESSIE (3.5" tall)
This next ornament doll will be my version of the rare Maggie Bessie Dolls. The Maggie Bessie dolls were made by the Pfohl Sisters (Maggie & Bessie), two Moravian ladies in Old Salem, North Carolina, beginning in 1893. I chose this doll based on the popularity of my Tiny Columbian Doll (#12 in this series) because the Maggie Bessies are similar in style and begun in the same year. $175 with a $30 deposit charged if you order now.
My production for 2017 is sold out. All new orders for this doll will not be shipped until February of 2018.
#16 2017 Tiny Doll $175 Add to Cart
#16 2017 Tiny Doll Ornament - with hanging loop $175 Add to Cart
(Note - Only a $30 deposit will be charged at this time)
Stand ordered with doll $9.50 Add to Cart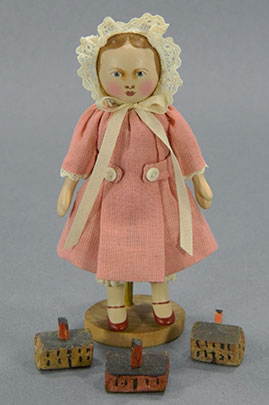 ANNABELLE
Announcing a 9" papier mache doll inspired by "A is for Annabelle" by Tasha Tudor. This is only a finished doll (sorry, no kit available) in a limited edition. Doll parts from the same mold as Louisa, the UFDC Kindred Spirits, Elizabeth and the Christmas Girl. Most of my customers are very familiar with the wonderful works of Tasha Tudor and indeed I have been inspired by her images since I first saw them in 1980. My Annabelle version will be recognized from the cover of the alphabet book shown below. She will have a blonde mohair wig with a handcrocheted snood (hard to see in the picture), wearing a bonnet with lace ruffle trim, a pink gingham dress in the late 1800's style with full petticoat and pantalets and pink leather slippers. The doll will come with a wooden stand and a lace trimmed handkerchief with the letter A embroidered as her accessory.
Her price is $695 and orders placed now will take a 20% deposit ($140) with balance upon shipping. Layaways are acceptable. Add to Cart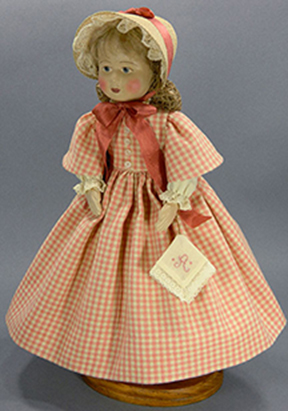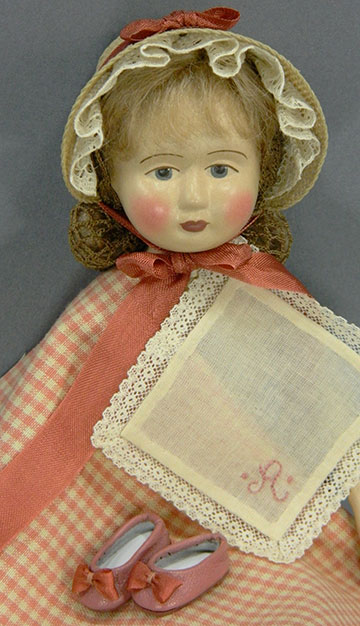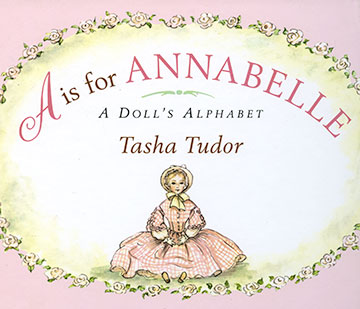 NEW PETITE SIZE IZANNAH WALKER SERIES ~ Announcing my 8" sweet sized Izannah series. This size was the event doll I did for this year's UFDC Convention. The doll sitting in the center chair is not available in those details because she is the limited doll I did for this year's UFDC Convention for one of the events, so as is she is sold out. But soon I will change her styling so that one very similar will be available. The boy on the left with his toy horse was also done as a Companion Doll for the UFDC Convention and I do have a few left that may be sold. When those are gone I will make a new edition boy similar. The Izannah on the right in the coatdress is available. More choices will be coming.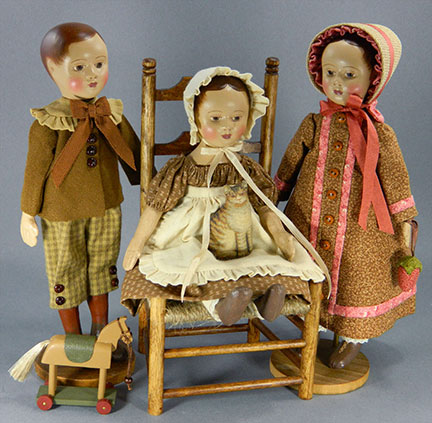 Boy Izannah with Horse (includes stand) $395 Add to Cart
Girl in chair is sold out but a new version can be pre-ordered - comes with stand. $395 (deposit charged only) Add to Cart
Girl in Coatdress and Straw Bonnet with Strawberry and stand $395 Add to Cart
Chair is sold separately. $78 Add to Cart

New Cotton Batting Character - The Halloween Cat (6-1/2" tall from tip of hat) - new to my other Halloween characters shown above. Kits and Finished are offered. Everything needed in the simple to make kits, some minimal sewing needed.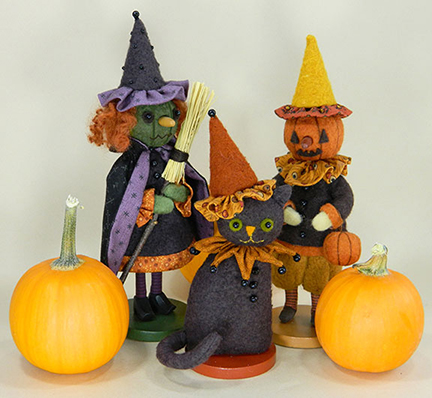 Halloween Cat Cotton Batting Character Kit $38 Add to Cart 

Halloween Cat Finished $68 Add to Cart

HITTY'S TINY PRINTED CAT

A perfect accessory for Hitty is this very tiny (1.5" tall) printed cloth cat taken from an antique unsewn cat by the Arnold Printworks Patented 1892. These printed cats and other animals and dolls were very popular for the home sewer who was to sew up and stuff these printed treasures for playthings long ago. GW has reworked the original artwork for this very easy kit or a delightful addition finished for your Hitty.
• Kit $15 Add to Cart
• Finished $18 Add to Cart

TINY DOLL NO. FIFTEEN (2016)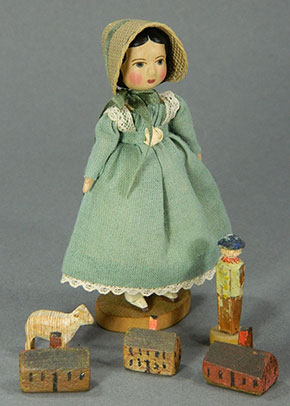 This next ornament doll is an early Peg Wooden dressed in Regency style. She is based on a photo of an antique doll wearing a wonderful straw bonnet. It was challenging to make a straw bonnet so small, but here she is. Bodies are hand sculpted and jointed wood. The tiny stand is recommended.
#15 2016 Tiny Doll $175 Add to Cart
#15 2016 Tiny Doll Ornament - with hanging loop $175 Add to Cart
Stand ordered with doll $9.50 Add to Cart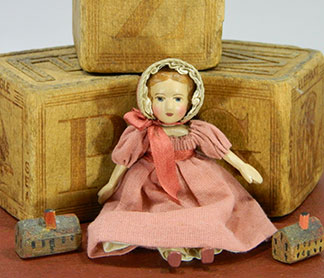 TINY COMPANION DOLL
FROM ELIZABETH LTD ED SET
This diminutive peg wooden accessory was made for the limited edtion 9" Elizabeth, a doll inspired by the illustrations of Kate Greenaway. After finishing all 25 in the edition, there ended up with one extra of this 3" companion doll. I included the one in a recent sale but so many people wanted her, I decided to make her a permanent addition to the Tiny Doll Collection. She does fits in nicely if you are collecting my other tiny dolls. Her ensemble includes a period dress, slip and pantalets, a lace ruffled straw bonnet tied with silk ribbon and painted pink slippers. $175 Add to Cart
Stand ordered with doll $9.50 Add to Cart

SPECIAL EDITION IZANNAH WALKER WITH WARDROBE, ACCESSORIES AND CLOTH COVERED STORAGE BOX AND MORE ~ A LIMITED CLUB

There are a few openings in this limited club (as of 11/5/18).
Contact me if you would like to sign up gailwilsondesigns@gmail.com. Or click the links below to sign up.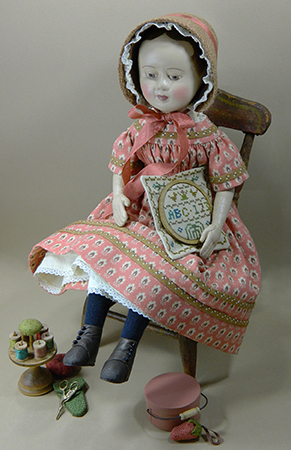 This doll and her club of items has taken about a half dozen years to bring to reality. The story follows below. The club has now actually gotten off and we are up to working on the items for the 5th and 6th shipments. I waited until I was confident I could manage doing this with limited helpers to announce I do have a few openings. (Current as of 11/5/2018). Unlike my other clubs, once the 30 limited places are filled, there will not be another opportunity to join this club ever to receive all of the accessories and clothing that will go with this collector series.
For those of you who have not already tired of why this project was endlessly postponed, here is the history. This very special club is the result and solution of getting big ideas that in practice are impossible to carry out unless one has a larger staff of workers or a magic wand. Several years ago, I took orders for a 12-13" Izannah with a small wardrobe and a carry case for all. But like two other notable projects in my past (my large furnished doll house and the Early American Doll Series) this project was first conceived as one whole unit. But the old math axiom - "the whole is equal to the sum of its parts" - did not hold true. With such a limited "staff" it is almost impossible to fit in really large projects and still make ends meet in between. Then I remembered my clubs. The amazing thing was that with a long history of successful clubs, I didn't think of it before. But I also needed to hone down the number of items still available for people to order. This was an undertaking that took fully two more years than I dreamed and in that time, the original number of people I needed to make this club "work" grew past the 12 I hoped for to 3 times that. This created additional problems such as the fabrics I had been collecting that would "go" together in a way that works for me (can't do it without the magic fairy dust) now would not be enough for more than 12 club people. Then the need for a couple more highly skilled needlewomen and a doll body maker (requires huge skill in both sewing and stuffing to my standards). And, miraculously, these were found and are now at work. But, sadly, there is an actual living to be made while the wonderful ideas of things yet to come have yet to be profitable.
In all this time though in spite of all the rest that needs doing, work has been going on bringing the club closer, and my plans to make my business less of a drain on limited resources has paid off. This year for the first time we have been able to send nearly all orders out if not immediately, then within the time promised due to narrowing the numbers items I am selling and then being able to work efficiently to get a small stock ahead of most (sometimes all) items and dolls. I know this means little for those of you who have been waiting for a very long time, but I did not want to send out this information and official sign-up until I felt it would work within the resources I have.
THE CONCEPT
When I was a little girl, my parents took me to the Fireworks on July Fourth (1957 or 8) that had some tables with things for sale - baked goods and knitted things, the usual, but also - a wonderful and large wardrobe and trunk for a doll. This was a raffle and how I yearned for it to be mine. It was not, but it was the beginning of me trying to make the same thing for my own dolls. It was the wonderment of all those items all together. I think this is a common love of not only little girls but grownups. When you see these fabulous sets in museums or books of dolls who are special enough to have all those clothes and accessories and often a trunk of some sort to safekeep it all, it has a way of going straight to your heart. It is that I want to create here. We see most of the dolls that are priviledged enough to have all of this are Fashion type dolls. Fashion Dolls are wonderful, but my most favorite doll is an Izannah, and extensive sets for her are rare indeed.
THE DOLL
The doll for this club will be from my most favorite mold created from one of the best Izannah dolls left to us to admire and love. At the time I did the original sculpt in wax, the 21" doll belonged to my old friend, R John Wright, who generously allowed me to take her home and study her and use her as the model for my 18" Izannah. Because I love that head so very much, I wanted the very same head for this doll. To arrive at a size about ⅔ of the original, I have to make a series of molds, then cast heads from those molds which shrink a small amount, then new slightly smaller molds from the slightly smaller cast heads, etc, until finally arriving at the new desired size. About 6 times and as you might imagine, a tedious and time consuming body of work. These will then be cast in papier mache and covered with knit, which in my opinion gives the best of both worlds - a firm, sturdy head that is affordable in production but with the warmth and softness only painting on cloth can provide. I mention affordable since if these were to be molded completely in cloth, as another version using the 18" original will do from heated metal molds, the dolls would not be able to be part of a club like this. The outward appearance is the same but the process using papier mache underneath the knit overlay means a production worthy doll for a small producer like myself. The body is to be the same hard-stuffed cloth body with narrow waist, stitched fingers and separate thumbs. Although she will have painted shoes and stockings as most Izannahs did, there will also be real shoes and stockings as a choice for some of her outfits.
THE CLOTHES
Leather shoes, stockings and of course detailed undies start the list. Inspired by the many many historical dresses, aprons, bonnets of all types and capes, there will be a trunk full of clothing to come.
THE ACCESSORIES
Most important is a carry case. Coral beads, sewing accessories, a sampler, a toy or two plus a doll's doll and a book. It is the best part of a doll collection to have just the right details.
OTHER PLANNED PIECES TO FOLLOW - THE CLUB MAY CONTINUE
If you, as I have done, over time have collected pictures of many of the collections of real Izannah Walkers, eventually you see how some very dedicated collectors have acquired such outstanding collections that contain Izannah sized furniture, rugs, tea sets and wonderful pieces that simply beg to be made again. I hope to be able to do this for this beloved doll. I loved doing it for my Early American Series (for a 9" doll), and my Hitty Series (Hitty is 6 ½" tall) and want to be able to do the same for my own version of Izannah Walker.
THE CLUB
As with my other clubs, there must first be a deposit. This protects me if you should have to drop out and like renting an apartment or house, will become your last payment. Also like my other clubs, all the items are averaged to give a single consistent payment which would be $175 - keep in mind many of the shipments will consist of more than one item but at the end, all will add up to the payments and the benefit of a discount on all. Because I am trying to be realistic (subject to fate, Mr Murphy et al.) and this may help my customers, I project that I will need every other month to have shipments ready. This would mean dividing the payment into two equal amounts or half to be paid every month with the item shipped the second month. The deposit would remain whole at $175 plus shipping/handling/insurance of $15.95. After that, each month a club member would be charged $95.48 (half of $175 + half of the shipping).you will be charged the deposit + shipping of $190.95. In the beginning of January you will be charged the first half payment, March, the second half and following that we will ship the first item - the doll. The second item(s) will arrive in late April and thereafter every other month. At the end of 12 shipments (24 months) you may opt out or continue.
Join the Izannah Walker Collector Club with Deposit ($190.95 - includes shipping for last shipment). This option then follows with the first half-payment ($95.48) will follow at month's end with the second half-payment ($95.48) the month after and the first item (the doll in her undies) will be shipped. Thereafter every month you will be charged half-payments with the next item being shipped every other month. At the end of 12 shipments (24 months) you may opt out or continue with additional pieces. Add to Cart
Catching up Option. This option is available if you would like to pay your deposit ($190.95) plus make up the number of shipments currently sent. As of 11/5/18 this would be 4 shipments ($700 with shipping for the 4 shipments sent as one to be added). I will first charge your deposit then email you with the current exact amount it would take to catch up with the initial club members. For the deposit ($190.95) Add to Cart. Then also click this to receive an email for the additional amount to catch up. You will not be charged until after you agree to the amount. Add to Cart

NEW PINCUSHION KIT
I have always been drawn to hex quilts and my Hitty customers will know I have included hex quilts in Hitty scale for years. Recently I saw some made in canning jar lids, but not content with that because I wanted more color expression that using my older sewing-pincushion top box idea, that would be just my style. So here is a new pincushion kit, really easy to do with nearly all handwork with the hexes supplied in the kit printed on reusable freezer paper. Pincushions are stuffed with wool (also in the kit) and all is over a foundation of a round paper box, included. The kit comes with one of my favorite color combinations - pink and brown, shown in the second row from top on the left, but you will be inspired for the possibilities using your own scraps. See some I made from my own scraps in the photo below.

Kits $38 Add to Cart
Pattern/Instructions Only - If you want to gather all your own materials this may be for you. $18 (includes freezer paper hexes). Add to Cart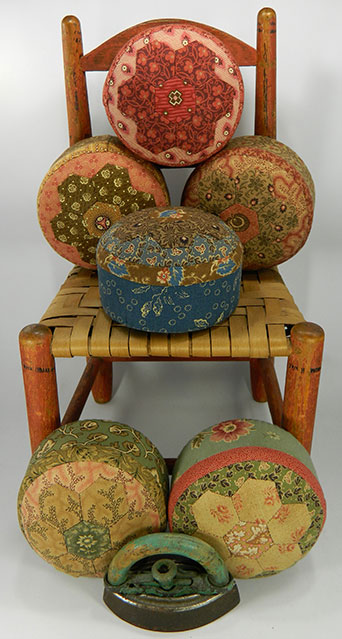 THE 8" MILLINERS MODEL DOLL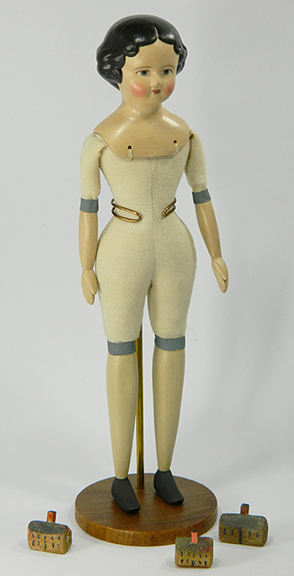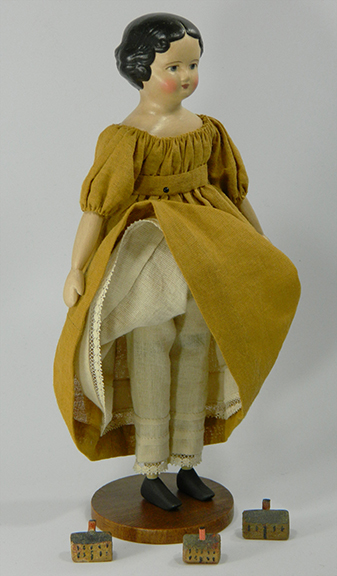 THE KITS: The dolls for this new kit have papier mache heads (all molded from my own originals) with easy to carve wooden limbs and cloth bodies. I think it is a moderately easy kit and the doll is a wonderful not-too-small scale. They will have the traditional blue bands securing limbs to bodies. Kits will include parts for the dolls (head and wood arm leg and foot blanks), body fabric, wool stuffing, necessary paints to make the doll including a new paint to make cheeks easier, plus fabric & notioins for her lace trimmed undies and a special cheek brush for the best cheeks. Patterns for two outfits (one is a simple period dress shown above right, the second is her fancy gown - not shown in picture) are included for you to use with your own choice of fabrics and trims.
Milliners Model Kit $95 Add to Cart
Milliners Model Extra Doll Parts $75 Add to Cart
Option for head to be pre-painted $25 fee Add to Cart
Optional wood stand $15 Add to Cart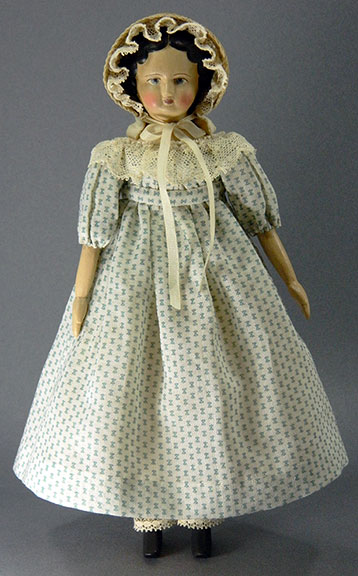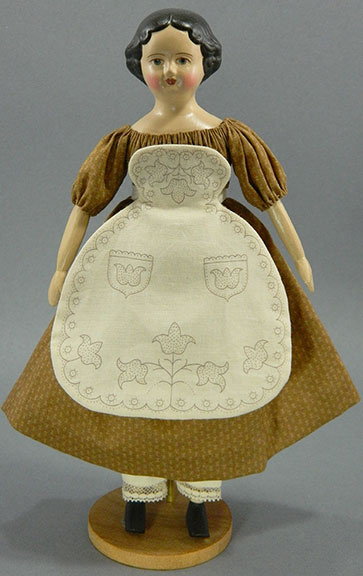 FINISHED MILLINERS MODELS

Milliners Model Finished in Period Dress with Bonnet (includes Stand) $395. Add to Cart
Milliners Model Finished in Period Dress and Printed Apron (with Stand) $395. Add to Cart