MY DOLL HOUSE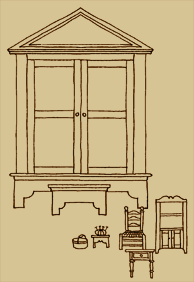 Dollhouse comes apart to 4 pieces (pediment, cupboard, base and stool) plus contains two dolls and over 125 pieces of furniture and sets of accessories on three floors. Has hidden interior lighting on each floor and back wall is covered with fabric in a "wallpaper" print with pegrails on each floor.

Dimensions: 60" high x 38" wide x 18" deep
Scaled for 8-9" dolls
Over all the years it took to do the planning and then the execution, we here completed 20 of these. The final one was to be for my grand daughter and for it I saved all of the over 125 items that filled them along with the pre-cut makings of the 3-part house and stool itself. But time passed, actually got away from me, and now that grand daughter is 12 and outgrowing dolls faster than I could pull off the monumental assembly and painting of the house. Plus, I did manage to build her a smaller 2-level Hitty Cupboard house filled with every item I have made for Hitty with 4 Hittys who live in it.
So I have arrived at the point where if I found someone interested, I would finish the 4 pieces of the house and sell it. Price would be $12,500 complete. A deposit of $2,000 would be required with full balance due on completion. It would be next spring before I could fit into my work. All interior items are finished and safely stored. Dolls would be made to order. Description follows below.
We would be able to deliver it within reason, for an additional fee for mileage within a limited distance beyond that but not beyond the midwest to the west or PA to the south. We did crate a few of them back in the day bound for the West Coast, but this was extremely costly.
Email me if you have serious interest: gailwilsondesigns@gmail.com