TERMS OF SALES (please read)

SALE PRICES AND DISCOUNTS DO NOT SHOW IN CART :
Please note that the only prices that will reflect sale discounts are those items with links on this page. All other stuff ordered on other pages will not have sale prices show up in your cart, unless it states otherwise - we will apply the discounts here when we invoice.

WHEN IS YOUR ORDER CHARGED?
Remember that when you place an order on my website, even though you give your credit card info, they are not automatically charged. Rather we manually collect the orders and then manually charge here after we apply any discounts. In cases where you order something that will take more time (for me to make it), we charge a deposit (20% - non-refundable) then the balance when the order is ready to ship.

CONFIRMING ORDERS:
You will receive an automatic response to placing an order online, but I will follow up with an individual response once I see what is on your order and can then determine a shipping date. Usually orders that contain finished dolls will take longer due to GW making each order as it is ordered.

A NEW FEATURE: Many of you order multiple times during a sale - which I appreciate greatly. But it becomes difficult and to be honest, crazy, keeping track so that we can combine orders for more economical shipping and we miss a few. Also, many of you belong to my clubs and sometimes I am still shipping sale orders at club shipping time. Since you know if you are in a club, you can let us know so that if possible (only if the timing works) we will combine with your club shipping.

Click Here if you want to combine multiple orders when possible

Click Here if you are already in a club and would like your sale order sent with your club (when possible and if in close timing with club shipping)

LAYAWAYS:

Layaways are always an option. See menu item "Ordering Info" at the top of the page and go to Layaways in the dropdown.

All Layaway terms apply.

SALE DISCOUNT EXCEPTIONS:




All items already discounted may not be also on sale, clubs cannot be included and sale discounts only apply to items already in production (unless otherwise stated) and may not be applied to orders already in place. If some items sell out, you may be offered a raincheck for the same sale discount with a later delivery.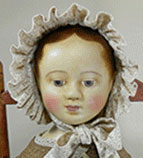 SPECIAL EDITION IZANNAH WALKER WITH WARDROBE, ACCESSORIES AND CLOTH COVERED STORAGE BOX ~ A CLUB
NOTE: Due to the huge response, I have had to rethink how to accomodate more than double the original twelve participants anticipated, so no formal information has been sent yet. I have just figured out how I can manage more people and the mailing will be going out to those who have signed up for information the week of July 4rth. In brief, the first shipment is the doll herself and to make it workable for my work schedule and my two longtime assistants, the first half of the people to sign up will get their dolls in early September, the remaining in October. Beginning in November everyone will receive shipments monthly.

THE ORIGINAL NOTICE:
In late March I am planning a new very special club. Several years ago, I took orders for a 13" Izannah with a small wardrobe and a carry case for all. But like a few other projects (notably my large furnished doll house and the Early American Doll Series as first conceived as one whole unit), the old math axiom - the whole is equal to the sum of its parts - did not hold true. With such a limited "staff" it is almost impossible to fit in really large projects. Another large obstacle was finding just the right group of fabrics that "worked" together but were only related in certain ways but were also the right scale and drape. What began to happen as I did start to design all the pieces and collect some of the fabrics, was that with the largess of the internet, more and more study material came my way causing me to expand the number of items to include with this doll. And over time as I painted many many Izannahs in several sizes, I also wanted to improve the doll herself. So this is where I met neverland. I felt I needed to cancel the idea and the several orders people placed - the project was simply too big to do and still make ends meet in between. Yes, there is still that. Then I remembered my clubs. Why not? This makes it work. The idea is I need about 12 people (including the ones I already have) to be part of this club. There will be a 12-13" doll, many outfits typical of those seen on antique Izannahs and including undies, bonnets, cloak, shoes, many accessories and a special cloth covered box or trunk to hold it all. This is still not quite fleshed out, but initial ideas have about 10-12 shipments at about $175 each with an initial deposit held to the end. If you are interested in this wonderful set through a club, please use the link to let me know. No money will be taken yet until you have received more definite information.
Add to Cart if Interested
HITTY NEWS - I will be taking a prototype Trunk for Hitty to the UFDC National Convention but due to the time constraints mentioned above the kit and the finished ones will not be able to go out until late August unless a fairy godmother grants my wish for a couple of clones to do my bidding. Hitty's Old Fashioned Early Sewing Machine is also in the works to follow the Trunk.
THE PINCUSHION DOLL NOW IN PATTERN ONLY FORM AS WELL AS KIT
With this pattern you can cut your own wood pieces or if you feel wood cutting challenged, there are suggestions for some acceptible alterations that only require some cardboard cutting. $18 Add to Cart
THE DISNEY DOLL (an old favorite) IS NOW IN PATTERN ONLY FORM
Patterns and Instructions including the face stencil $18 Add to Cart
PATTERNS BECOMING AVAILABLE IN PDF FORMAT ~ Saves shipping for international customers. Please email me if there is not a PDF link for the pattern you would like. Please note that in the case of the little extras sometimes included with some patterns (for example, a stencil for the face), you would not receive any extras. At this time, Hitty patterns are not available in PDF format.
Email: gailwilsondesigns@gmail.com
Phone: 603-835-6551