THE 8" MILLINERS MODEL DOLL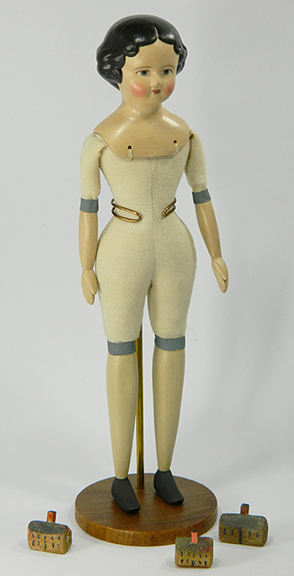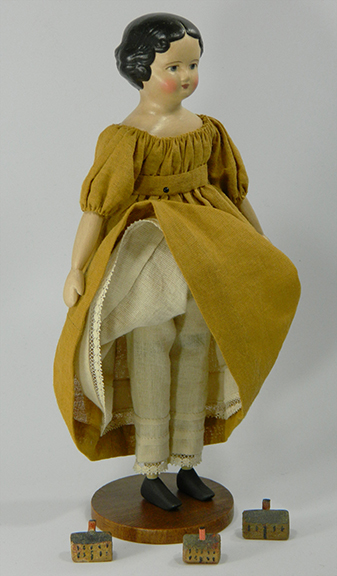 THE KITS: The dolls for this new kit have papier mache heads (all molded from my own originals) with easy to carve wooden limbs and cloth bodies. I think it is a moderately easy kit and the doll is a wonderful not-too-small scale. They will have the traditional blue bands securing limbs to bodies. Kits will include parts for the dolls (head and wood arm leg and foot blanks), body fabric, wool stuffing, necessary paints to make the doll including a new paint to make cheeks easier, plus fabric & notioins for her lace trimmed undies and a special cheek brush for the best cheeks. Patterns for two outfits (one is a simple period dress shown above right, the second is her fancy gown - not shown in picture) are included for you to use with your own choice of fabrics and trims.
Milliners Model Kit $95 Add to Cart
Milliners Model Extra Doll Parts $75 Add to Cart
Option for head to be pre-painted $25 fee Add to Cart
Optional wood stand $15 Add to Cart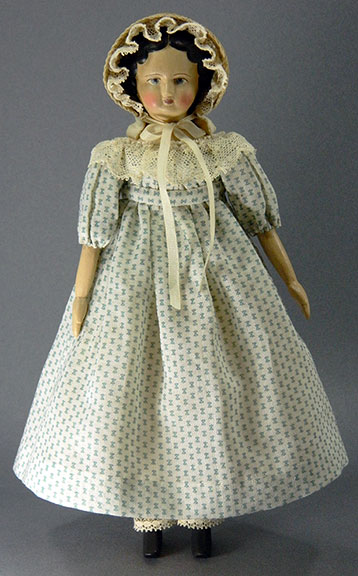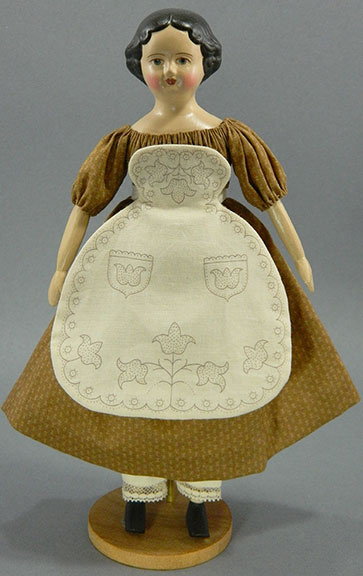 FINISHED MILLINERS MODELS

Milliners Model Finished in Period Dress with Bonnet (includes Stand) $395. Add to Cart
Milliners Model Finished in Period Dress and Printed Apron (with Stand) $395. Add to Cart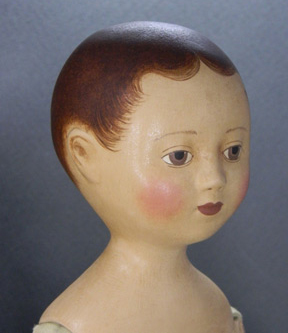 Wispy Curls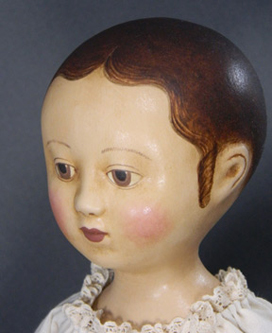 Sausage Curls
A 10" Izannah Walker Inspired Doll with Wardrobe ~ A fine addition to my doll kits and a wonderful doll to collect and sew for. This doll is a scaled down version who in her original size of 18" was sculpted by me carefully by measurements and shape templates from a real 21" Izannah, so she is pretty true (well, I do admit to making her more subtle ears than Izannah did). Her head is molded papier mache with a cloth body stuffed with wool. Included are special painting instructions for either wispy side curls or her signature sausage curls. Although the painting is somewhat tricky, I have simplified the methods with the help of recommended special tools so that really is not that much more than any other painted doll. Of course, I also offer pre-painting of the head as I do with all my other molded dolls. Her patterns for her wardrobe include her pantalets and camisole, petticoat, 2 dress styles, 2 aprons, her hooded cape, a hard constructed and a cloth bonnet plus her own folk cat (an accessory she is often depicted with) and a pocket. Included in the kit are also very special cotton knit and optional instructions for doing the knit-over technique if you choose.
KITS ~ SUPPLIES ~ PATTERNS

• Kits for the 10" Izannah Walker Inspired Doll with Wardrobe Set of Patterns ~ $125 Add to Cart
• Pre-painting by GW for your doll kit's head. (This is the fee for painting only). Choose Wispy Curls $95 Add to Cart or Sausage Curls $125 Add to Cart
• Extra Head (only sold to kit owners) with knit for optional knit-over $40 Add to Cart
• Recommended Special tools (besides the ordinary ones needed) available on the Supplies pages: 1/8" Comb Brush, New Comb Brush Tool plus click here to see the pointy Q-tips and make-up brushes that will make your work easier.
• Buy extra of the special fine cotton knit for other knit-over projects Fat quarter (18" x 28") $4.50 Add to Cart
• Pattern Only for Wardrobe ~ Complete set of patterns and instructions for the wardrobe described above. $19 Add to Cart
FINISHED DOLLS (The finished editions of this doll are no longer available)

FINISHED WARDROBE SETS OR INDIVIDUAL PIECES (These are now discontinued but Patterns - above - will remain available)