18" IZANNAH WALKER INSPIRED DOLLS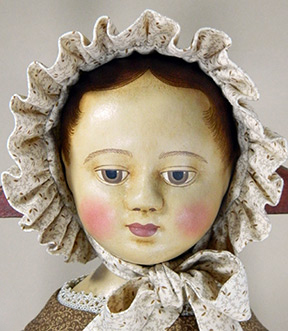 KITS TO MAKE YOUR OWN:
This is a molded head Izannah Walker made from months of study of a real (and quite wonderful) antique Izannah Walker from the collection of my old friend and well-known dollmaker, R John Wright. From the original wax sculpt of her, a metal mold was made from which to heat press layers of cloth in the same manner as Izannah did herself. The first trial metal mold was my learning experience with John and Susan Wright as gracious and patient mentors. The new metal molds are in the process of undergoing the necessary revisions to be able to make dolls with cloth pressed heads. Meanwhile, I have decided to revise my plan and make use of this molded head covered in special cotton knit as an official kit. This is due in part to fill a need for dollmakers to make a nice version of a pretty true Izannah look without having to sculpt a doll by themselves. It will take about one month to make the necessary master molds in order to continue making heads from this design at which point I will kit the head, templates for face detail and hairlines, study materials and all supplies (stuffing extra) to make the complete doll with undies, shoes and stockings (leather, undies fabric, lace and notions included). Patterns will be included for many pieces of clothing, including boys styles (these fabrics not included). Price of the kit is $175 Add to Cart
Extra Head with knit $68 Add to Cart
To have GW cover head with knit and paint for you add $225 for sausage curls Add to Cart or $195 for the wispy style Add to Cart (Note - prices for GW painting do not include the head).
FINISHED 18" MOLDED IZANNAH WALKERS (WITH KNIT-OVER MOLDED HEADS)
The doll shown below is one made from reproduction print fabrics, a vintage dimity apron, leather shoes and stockings and she comes with her own cat. Her price is $995. Add to Cart