Click numbers at right to view more pages.

 1  2 
NEW ~ BLONDE HITTY OPTIONS ~ This version of Hitty is created as a Hitty Friend using my cloth body style with dark blonde hair and blue eyes (shown at left). Due to the painting process for the blonde hair, she is only available as a finished doll or if you have Gail prepaint your Hitty kit parts. To order prepainted blonde Hitty parts for a kit version, go to the Hitty Kit page. Blonde Wood Hitty (shown at far right) is also available.

• Blonde Hitty - Undressed (with coral beads) for you to dress.$225 Add to Cart
• Blonde Hitty - Starter Set Undressed (with coral beads and Wardrobe Patterns 1 & 2) $235 Add to Cart
• Blonde Hitty Dressed Choices: See the Hitty page for finished dolls

• Blonde Wood Hitty - $245 (Comes undressed with her coral beads). Add to Cart

| | |
| --- | --- |
| | The color choices for if you would like your doll to come to you dressed. The style is the same removable dress in the top photo but offered in reds, browns, pinks or blues. The gingham will be the apron. |

MEET HITTY'S LITTLE SISTER (4.75")

These dolls were made from reduced versions of my 6.5" Hitty and are 4-3/4" tall and planned to be just right to be Hitty's Little Sister. These began as my souvenir doll for a convention with the idea that later they would be Hittys Little Sister. Like my wooden Hittys, these have hand carved wooden bodies with my molded papier mache heads.
Hittys Little Sister is available with blonde or dark hair, dressed ($238) with color choices or undressed ($200) or ($210) with a set of patterns for a complete wardrobe (includes two dress styles, undies, two pini styles, a cloth bonnet, nightgown set and winter cape). Orders now filled within 1-2 weeks.

DOLLS ORDERED UNDRESSED:
• Hitty's Little Sister Undressed with dark hair $200 Add to Cart
• Hitty's Little Sister Undressed with blonde hair $200 Add to Cart

DOLLS ORDERED UNDRESSED WITH PATTERNS:
• Hitty's Little Sister with dark hair undressed wtih patterns. $210 Add to Cart
• Hitty's Little Sister with blonde hair undressed wtih patterns. $210 Add to Cart

DOLLS ORDERED DRESSED:
• Hitty's Little Sister with dark hair dressed in new outfit (color choice made below). $238 Add to Cart
• Hitty's Little Sister with blonde hair dressed in new outfit (color choice made below). $238 Add to Cart

COLOR CHOICES FOR DOLLS ORDERED DRESSED (see photo at left):
• Browns Add to Cart
• Pinks Add to Cart
• Blues Add to Cart
• Reds Add to Cart


COMPLETE WARDROBE PATTERNS:
This set of patterns comes with the Undressed Dolls with Patterns above, but they may also be purchased separately. $18 Add to Cart

CLOTHING MAY BE ORDERED SEPARATELY - $38.00 Includes set of undies.(see photo at left for choices):
• Browns Add to Cart
• Pinks Add to Cart
• Blues Add to Cart
• Reds Add to Cart

NEW: STANDS FOR HITTYS LITTLE SISTER
Hittys Little Sister (5" doll) stands Kit $16 Add to Cart Finished $22 Add to Cart



TINY PEG WOODEN DOLL NOW NAMED ABIGAIL


This tiny doll began her life as the subject of a workshop that was cancelled during the beginning months of the pandemic. She is even more petite than my Tiny Doll Collection, who average about 3.5" tall. I scaled her down to under 3" so that she would be a good size doll's doll for even a doll as small as Hitty. The pictures do not show off some of her details such as her modeled curls behind her ears, her dainty wooden legs with painted slippers and her blue eyes.

Tiny Doll $175 Add to Cart
Stands optional but available for $9.50 Add to Cart

THE NEW TINY DOLL FOR THIS YEAR (2020-21)

TINY DOLL NO. NINETEEN (2020) ~ A TINY (3.5") ANNABELLE INSPIRED BY TASHA TUDOR'S BELOVED "A is for Annabelle"

My Tiny version of Annabelle will be recognized from the cover of the alphabet book "A is for Annabelle" by Tasha Tudor. She has painted blonde hair fashioned with a snood which can be seen in back below her straw bonnet trimmed with pink silk ribbon and a lace ruffle. Her dress is, of course, micro pink gingham in the late 1800's style with full petticoat, pantalets and pink slippers. All dolls available only with no hanging loop. Stands recommended.

#19 2020 Annabelle $225 Add to Cart

Stands Recommended - If a stand is ordered at the same time as a doll, the stand will be 25% off. One stand per doll. $9.50 Add to Cart

HITTY SIZE (6.5") IZANNAH WALKER DOLL READY FOR RESERVATIONS

The doll receiving the most "must haves" at the 2018 UFDC Convention Sales Room in my booth was the Hitty size Izannah Walker I have been promising. This first one will come as pictured but there will be many more outfits to choose from later once she (and he) is in full production, plus most of Hitty's clothes will fit not to mention all of Hitty's accessories and furniture. Her price is $395 and she will come with a stand and the tiny cat.
Add to Cart

SUSANNA - The latest 9" molded papier mache doll from the Louisa mold. She won the coveted chunk of fabric I had found and saved years ago for a special doll and finally agreed to let her have it. Susanna has many features of Louisa including a mohair wig worn with one of my hand-crocheted snoods, with her coatdress styled with a hand-crocheted collar. She carries a strawberry emery and a printed cat as a spot of color and wears leather high button shoes. Since she looks best standing, she will come with a wooden stand.
Susanna is a limited edition (24). $595 Add to Cart

MY LATEST 9" MOLDED PAPIER MACHE DOLLS READY FOR RESERVATIONS

NEW EDITION OF LOUISA - Louisa was the first of several dolls from this mold. She has become far and away the most requested edition of a doll in my career. I ended up doing 3 full editions of her after mounting the difficult search for the just-right fabrics each time. And yet the requests keep coming. So, after search number 4 (these searches take many hours and several days), I have located a new yet still perfect cinnamon brown plaid for another edition. Since the first Louisa's in 2009, the dolls now have posable arms and real cobbled shoes, but will still have the same mohair wigs and hand crocheted snoods and collars. Limited edition of (24).

Set of dolls $695 Sold Out for now





This 9" doll is Louisa and this is her story . . .
"It is 1858 and I have just received my first
store-bought doll."

LITTLE RED RIDING HOOD TINY DOLL (3.5" tall)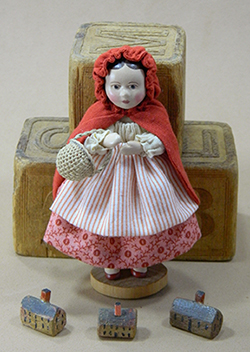 In this past year's R John Wright Convention Workshops I did a series of 3 dolls - Little Red Riding Hood and Hansel and Gretel - for his theme of Fairy Tales. I borrowed my Tiny Dolls basic look and construction for these tiny dolls, adding posable arms and legs to the bodies. She is dressed in her red cape, 2-piece dress and apron with pantalets under where you can see her red shoes peeking out and carries her tiniest of baskets. Includes her stand. Sorry, these are not available as kits. $175 Add to Cart
HANSEL AND GRETEL (3.5" TALL)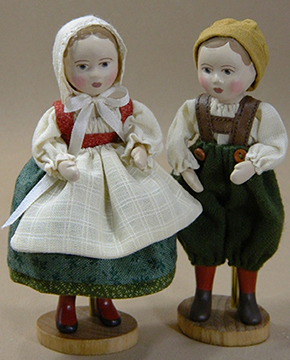 This well known duo are also available as a set and come with their stands. Like Little Red Riding Hood above, these too have posable arms and legs. Gretel has her day cap and Hansel his own cap and leather-like suspenders. $300 for the pair Add to Cart
MOTHER GOOSE AND LITTLE BO PEEP
The next dolls in the series are Little Bo Peep (with a teeny pulltoy sheep) and Mother Goose (with a teeny pulltoy goose). Available now. Little Bo Peep and Mother Goose each also come with stands. $195.
Little Bo Peep $195 Add to Cart
Mother Goose $195 Add to Cart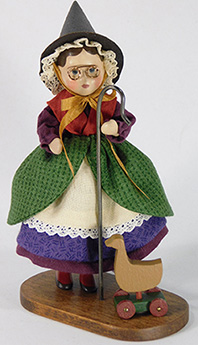 COMING SOON : For those collecting this series, I will be presenting Little Miss Muffet in the fall. She will also be $195.
Pre-Order Little Miss Muffet - Deposit $35 Add to Cart

| | |
| --- | --- |
| | DICK AND JANE READERS - These tiny books began as an accessory to a doll I did for a convention souvenir with a 1950's theme, but are now available as stand alone doll accessories and have delightful tiny reproductions inside from actual Dick and Jane series books. Since I was in first grade in 1956, these very books were part of my own beginnings in reading, so I chose to make these little hand bound books for that reason and inside I tell the history of how these readers came to be the standard for learning to read for many decades. Size is 1-3/4" x 2-1/4" $24 Add to Cart |
NEW
GINNY DOLL PAPERDOLL FOR YOUR DOLLS This set was originally used as an accessory for the 1950's theme doll representing me in first grade (1956) that I did for UFDC and now is made its own item and number 3 in my doll size paperdoll series.The Set comes in a tiny gift box (pictured is the cover of the tiny box) with Ginny made as a front and back paperdoll mounted on a thin wood silhouette with a painted wooden base to stand on her own. Tiny envelopes come with them to hold their three outfits which although are meant to be display items with the clothing left uncut, the outfits will fit if cut out. $24 Add to Cart

A TINY BOOK OF FLOWERS taken from the Secret Garden, the beloved book by Frances Hodgson Burnet. This little book (smaller than other books above) was made as an accessory for my series of dolls from the Secret Garden. Book size is 1-3/8" x 1-5/8". $24 Add to Cart

NOTE: Picture is not true to color.

HITTY'S TINY PRINTED CAT

This cat is not new, but such a popular and cute tiny item that I am keeping it here. A perfect accessory for Hitty is this very tiny (1.5" tall) printed cloth cat taken from an antique unsewn cat by the Arnold Printworks Patented 1892. These printed cats and other animals and dolls were very popular for the home sewer who was to sew up and stuff these printed treasures for playthings long ago. GW has reworked the original artwork for this very easy kit or a delightful addition finished for your Hitty.
• Kit $15 Add to Cart
• Finished $18 Add to Cart
(See more sizes of printed cats on the Animals page)

NEW CHEEK PAINT AND BRUSH SET - The answer to your prayers for perfect cheeks

Use acrylics for all other painting, but use alkyd oils for at least cheeks for better, easier cheeks. If you will be using these paints soon after receipt, the best way to paint cheeks fairly effortlessly is with alkyd oils (fast drying oils). Oils allow you to easily feather out the edges using a dry brush and virtually no paint on your brush. Clean up with turpentine or turp substitute. You can then seal with varnish (recommended is Mod Podge Matte) and antique as usual. Included with the set of three colors in small paint pots (Titanium White, Cadmium Red Deep, and Burnt Sienna) are a concealer brush, a brush point Fantastik Paint Stick for blending or cheeks on tiny dolls, a foam Q-tip, and basic instructions.

CHEEK PAINT SET $9.95 Add to Cart
JUST THE PAINTS (no extras) $4.95 Add to Cart




CONSULTING ~ I have added consulting as something I do that allows me to share my 42 years of being in business making and teaching a broad range of techniques, mediums and how to engineer how to bring ideas to life. I am also really good at organizing spaces, besides designing patterns & writing instructions, making molds, running workshops. Write to me if you have a project in mind.
Click here to send an email inquiry.