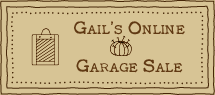 NOTE: Unless noted, all prices shown here on the Garage Sale are the sale prices that will show up in your shopping cart.
NOTE: To help inspire purchases during this difficult time, the 10% discount mentioned on the Home Page will be applied to all items listed below unless otherwise stated.


I have yet to sell anything on Ebay and yet I really do need to unload some extras. I don't live where a real live garage sale would be worth the time, so this is my cyber garage sale and I will be adding to it whenever items come up, so please check back once in awhile.
I will no longer offer to maintain a list of people to notify when new things are listed due to time constraints. I will keep the Garage Sale page going and let all know in my occasional email announcements and sales, if I have new things listed. Otherwise, it has worked well to be able to supply bargains and other finds to those who just happen to come here serendipitously.


DOLLMAKING ODDS & ENDS


BUNDLES OF FABRICS ~ These are made up from fabrics chosen for their appropriateness for doll making. Bundles will change from time to time as they become available and will change from time to time so keep checking back to see what is available. Please note that bundles are now located on the DOLLMAKING SUPPLIES tab in the drop down under Basic Dollmaking Fabrics.


CHRISTMAS KITS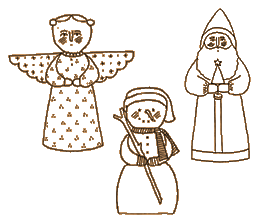 The List of Re-Issued Kits (see more about each one on the Christmas page found in the menu):
ALL OF THESE KITS LISTED BELOW ARE NOW SOLD OUT, BUT SOON THE INSTRUCTIONS AND PATTERNS AND IN SOME CASES CERTAIN ITEMS NECESSARY FOR THEIR CONSTRUCTION WILL BE ADDED (MAKING THEM PATTERNS PLUS). ANTICIPATING SPRING '21

Two Very Small Santas
Very Small Snowman
Three 5" Painted Cloth Angels in Muslin and Lace
Treetop Angel
13" Primitive Santa
7" Primitive Snowman
12" Broom Snowman
11" Primitive Angel
9" Painted Cloth Santa
Three 5"Painted Cloth Angels in Country Colors kit
Two 8" Painted Cloth Angels in Country Colors kit
8" Painted Cloth Angel in Muslin and Lace
Linsey-Woolsey Angel
Set of Angel Ornaments
Very Small Angel











pics coming

OLD FELT BEAR KITS FROM THE 1980'S FOUND
and new paints added. These came back from a retired sewer cleaning out. She used to make samples back in the day.

• Basic Bear Kits (have 8 of these) - The complete kit with patterns, instructions and all materials to make two bears in etiher the large size (2 1/2") or the small size (less than 2") with ribbons for bows. $12 Add to Cart
• The Loveseat Set (have 4 of these) -The complete kit with patterns, instructions and all materials to make two 2 1/2" bears, one in buttoned overalls and jacket, the other in a smocked pinafore and straw hat. Both sit on a painted wooden loveseat made with pre-cut wood parts and paint provided. $18 Add to Cart
• The Bear Family on a Bench (have 3 of these) - The complete kit with patterns, instructions and all materials to make a 2" Father Bear in a buttoned jacket, 1 3/4" Mother Bear in a calico apron and a 1 1/2" Baby Bear in a bib. All sit on a painted wooden bench made with pre-cut wood parts and paint provided. $20 Add to Cart

• Also a Blue Gingham Calico Bear Kit (1) $10

SEWING ACCESSORIES SET FOR 12-16" DOLLS:
Versions of these were originally made in a smaller size for my Early American Series and then the Hitty Series. Later they also became used in a larger size (as pictured) for my Izannah Collection Series and then finally they were to be a workshop that has now been cancelled due to the virus situation. I have a few leftover kits available and a few completely finished sets. FINISHED SETS ALL SOLD

THE KITS: Although this is a kit, it is nearly done for you due to the workshop it was intended for had to be completed in less than 3 hours. (This excludes the X-stitch sampler which was an "extra" added into the kits and optional to be done on the workshop attendee's own time.) The sampler does come with its own hoop for you to use while stitching the pre-printed sampler, needle, flosses and the pre-finished doll size hoop to display it in. The other pieces - pincushion, strawberry emery, and scissors case - are all pre-sewn by machine here and you just turn right side out and stuff and complete other minor finishing touches. The spoolrack is pre-finished as well and only needs minor assembly, the wooden spools wound with included flosses and the tiny pincushion top added. Even the sewing box and handle has been assembled and only needs paint. The incredible working stork scissors are included as well. All supplies are included, you only need a few basic tools from your craft supplies. $95 Add to Cart

A Tiny Book of Flowers taken from the Secret Garden, the beloved book by Frances Hodgson Burnet. This little book (smaller than other books above) was made as an accessory for my series of dolls from the Secret Garden. Book size is 1-3/8" x 1-5/8". $24 Add to Cart

NOTE: Picture is not true to color - see the doll below holding the same book for a better idea of colors.

Two 9" Secret Garden Dolls - These are orphans from a customer's abandoned layaway. There were 3 dolls made for UFDC convention in the theme of the Secret Garden. The main doll of the event (there were 100 made of these) was the young Mary Lennox depicted in the picture below after becoming aware of the magic in the Secret Garden. The 2 shown at top left were Companion Dolls (35 of each made). The boy is of course Dickon who befriends Mary and teaches her his love for nature and the girl doll on far left is also Mary, but depicted as she arrives from India as a spoiled child, and I named her, Mary Arrives. She has blue leather button boots and holds the tiny book of flowers sold above. Dickon has his box of garden seeds and his gardening tools. Both dolls come with wooden stands. These are reduced prices from $625, but will receive the additional 10% which will be applied here before charging your order.

Mary Arrives (In white dress) $495 Sold
Dickon $495 Add to Cart

AN ANNABELLE I HAD BEEN SAVING

When the last few of the second edition were left, I set aside one for the UFDC doll convention last year that would have been in Dallas. The pandemic cancelled the all doll conventions and so now here is the one I was saving.

Inspired by "A is for Annabelle" by Tasha Tudo is this 9" papier mache doll in a limited edition. Doll parts from the same mold as my Louisa, the UFDC Kindred Spirits, Elizabeth, the Christmas Girl and the Secret Garden dolls. Most of my customers are very familiar with the wonderful works of Tasha Tudor and indeed I have been inspired by her images since I first saw them in 1980. My Annabelle version will be recognized from the cover of the alphabet book beloved by lovers of Tasha Tudor's remarkable body of work. She has a blonde mohair wig with a handcrocheted snood (hard to see in the picture), wearing a bonnet with lace ruffle trim, a pink gingham dress in the late 1800's style with full petticoat and pantalets and pink leather slippers. The doll will come with a wooden stand and a lace trimmed handkerchief with the letter A embroidered as her accessory.
Her price is $695 SOLD

ARTIST'S PROOFS OF 2020 UFDC CONVENTION DOLL ~ 1950's GW 9" Doll (only 1 available)

Each year when I contract to make 100 dolls for souvenirs for UFDC events, I make a small number of them that start out as prototypes and also are the few extras I may need in case something goes wrong in the making of such a large number. These are the last ones.

This particular doll is a huge exception to my usual style due to the time period she represents. The theme of this year's convention was The Fabulous 50's and I prefer styles farther back in time, but realizing I was born in 1950, I felt I wanted to do a self portrait of myself in 1956, first grade. I indeed had long brown braids and a dress very similar to the one on this doll sporting a large bow in back, a full petticoat underneath and real leather mary jane shoes. For accessories she has a tiny Dick and Jane Reader (the books generations learned to read from) and a tiny Ginny paperdoll (outfits are in the envelope with tiny scissors as if she were about to play). It was fitting to give her the Ginny since my own Ginny dolls and all their accessories were the actual inspiration for beginning my doll making career. There was something special about the size and most of my dolls over my long career have been sized accordingly.

Since the convention was cancelled, I feel obliged to sell the dolls at the lower price set by UFDC who then had to sell all 100 without the benefit of the convention. This is a much reduced price from the price I need to charge for a doll of this type, so there will be no further discount possible. Normally this type of doll would be priced at $695. Her price now is $410 without the stand in the photo. One available. SOLD
NOTE: Contact me for how to buy a 1950's GW Doll from UFDC.


Dick and Jane Readers - These began as an accessory to the doll above but are now available as stand alone doll accessories and have delightful tiny reproductions inside from actual Dick and Jane series books. These are hand bound books made here. Inside pages tell the history of how these books came to be the standard for learning to read for many decades. Size is 1-3/4" x 2-1/4" $24 Add to Cart






NEW
GINNY DOLL PAPERDOLL FOR YOUR DOLLS This set was originally used as an accessory for the 1950's theme doll representing me in first grade (1956) that I did for UFDC and now is made its own item and number 3 in my doll size paperdoll series.The Set comes in a tiny gift box (pictured is the cover of the tiny box) with Ginny made as a front and back paperdoll mounted on a thin wood silhouette with a painted wooden base to stand on her own. Tiny envelopes come with them to hold their three outfits which although are meant to be display items with the clothing left uncut, the outfits will fit if cut out. $24 Add to Cart


Tiny size (1-1/2") on left, small size (2-1/2") on right.

EVERYBODIES FAVORITE PRINTED CATS - A SPECIAL OFFER FOR BULK BLANKS TO MAKE:

In one of my latest cleaning outs I came across piles of the uncut, unsewn cats from my original source (before I purchased the real antique print from my source and created my own printable copy). So, I no longer have need of these. Simple to make, and at the coming season would be small treasures as gifts. I am only selling the printed cloth blanks with no other supplies (all you need is thread, stuffing, a small piece of cardboard to reinforce the base), but I will include a page of the simple instructions. Here is the special part - selling multiple cats in each of the two sizes.

Tiny Size (not shown in picture, 1-1/2" tall - sized for Hitty) - Sets of 7 cats + instructions $20 Add to Cart
Small Size (2-1/2" - also sold at bottom of this page as a kit) - Sets of 4 cats + instructions $20 SOLD

Set of 3 Finished Tiny 1-1/2" Cats (like new, used as models) - These are sold as Hitty accessories for $18 each. Set of all 3 on sale $20 SOLD










SET OF TWO 12" AMISH CLOTH DOLLS (One of the old Historical Folk Doll Series)
Unlike many of the popular cute versions that are everywhere, these dolls are serious and meant to exemplify the expert sewing accomplishments the Amish are known for. In keeping with their traditions, the dolls remain faceless and plain fabrics are used for the clothing. I first made Amish dolls beginning in 1985. This series has long been discontinued, but we have put together a batch of these in kits for a bit of an encore. All materials included in the kit for two (except stuffing). Old price from 1996 was $46, but these have a sale price of $38.

NEW CLEARANCE PRICE $19 Add to Cart

A FAMILY OF TINY AMISH DOLLS (3-4" tall)
Newly kitted from the originals begun in 1985 part of an old series of small folk dolls. Easy to make. Includes all materials for cloth bodies and all clothing, forms for the felt hats and buttons. Comes with its own bag of stuffing. Sale priced at $22.


NEW CLEARANCE PRICE $11 Add to Cart


A FAMILY OF SMALL AMISH DOLLS
Newly kitted from the originals begun in 1985 part of an old series of folk dolls in an easy to make 7-1/2" size (children are about 5" tall). Includes all materials for cloth bodies and all clothing, forms for the felt hats and buttons. Comes with its own bag of stuffing. Sale priced at $28

.
NEW CLEARANCE PRICE $14 Add to Cart


HITTY PAPERBACK BOOK COVER KITS - Discontinuing this kit

Make a Cloth Book Cover

~ If you would like a more heirloom-looking book but have the paperback, order this small kit which will cover the book above (kit only fits the 5" x 7-1/2" paperback above) with a fabric print and a reproduction of the original title block to apply to the new cover, making it similar to the old books like the one shown below. Complete kit for cover only. Original price $20, on sale for $9 Add to Cart







NEWS - This was originally a one-time sale item but has proven to be very popular, so it will remain an item.
THE STORY: This is a long long story involving getting a new size of the much loved printed cats shown here. A good friend and customer, Jocelyn Benzaia, has been my supplier of the reproduction prints of the cats that I sell finished in a 3" size (shown center front) and the 5" size (shown in the back row). However, in trying to get to an even smaller size for Hitty (1-1/2" tall), I ended up acquiring through a simple mistake in ordering, scores of a 2-1/2" size, which I did not want. So, made up a simple kit to share in the bounty. The kit has one set of printed parts - front, back and bottom - plus instructions for how to make - you supply your own stuffing.

Printed 2.5" Cat Kit $12.75 Add to Cart
For larger sizes of printed cats see Other Items in the main Menu, then choose Animals
For the tiny Hitty size, see Hitty Accessories