MY TINY PAPER DOLL SERIES
My paper dolls come fully colored and have wooden backings with stands.
FASHION PAPER DOLL IN TWO SIZES
These are the first in a series of tiny paper dolls. This one is my Fashion Doll and is 2-1/2" in her wooden stand. The dolls and clothing have fronts and backs and the dolls themselves are laminated onto wooden backings cut exactly to their shapes. Tiny envelopes come with them to hold their three outfits and accessories plus there is a tiny box to hold all. Although meant to be display items with the clothing left uncut, outfits will fit if cut out. Instructions included and kit has all supplies.

Large versions (shown in front) were originally made just for "advertising" and displayed so the details of the tiny paperdolls could be seen better. Naturally, everyone wants this size too, just for display. You can order the larger 6-1/2" size for your own display. Paper dolls (each doll has both front and back) are wallpapered onto wooden forms with wooden bases.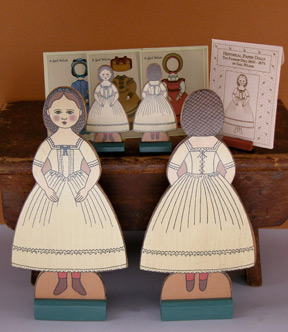 2-1/2" Paper Doll Sets shown in background.
Shown in foreground is the 6-1/2" display version.

Finished Gift Boxed Set - $24 Add to Cart
Kit $18 Add to Cart
6-1/2" Display Model $18 Add to Cart

6-1/2" Display Model in Kit - we have so many of the wooden cut-outs that I decided to kit them up and sell off a bunch real cheap. Nice party favors, decorate a gift package, or simply make one or two to live in your dollmaking area. Kit has pre-printed fronts and backs ( 2 sets), wooden cut-out backing, wooden base and all supplies plus instructions. $6.95 each Add to Cart

HITTY PAPER DOLL
This version of Hitty is only 1-3/4" tall, has front and back applied to a wooden cut-out and a painted wooden stand. She has 4 outfits with front and back views and comes in a tiny matchbox. Photos available soon.


Hitty Paper Doll wtih 4 front and back outfits and matchbox storage.
Kit $18 Add to Cart
Finished $30 Add to Cart



SPECIAL OFFER
• Paper Doll Cutting Scissors - 4" extra thin-tipped scissors with large loop handles. Special Price regularly $29, purchased with GW Paper Dolls $24 Add to Cart
• Magnification for Cutting Paper Dolls (and all close work) - Regularly $36.50, purchased with GW Paper Dolls $31.50 Add to Cart
COMING SOON ~ Izannah Walker Paperdolls