My Dollhouse was intended to be for the size dolls (8-9") that I built my career on. There is no "standard" scale for this size, such as the dominant one of one inch to the foot. That did not matter to me because I make everything to my liking anyhow. Because of its size, the Dollhouse was designed 4 pieces (pediment, cupboard, base and stool) plus contains two dolls and over 125 pieces of furniture and sets of accessories on three floors. Has hidden interior lighting on each floor and back wall is covered with fabric in a "wallpaper" print with pegrails on each floor.

Dimensions: 60" high x 38" wide x 18" deep
The first project began in 1987, when I showed a small setting of things to some customers of my dolls and let it be known I was going to do a whole dollhouse. Little did I realize in my excitement to begin that it would turn out to take nearly ten years to complete with the enormous mission requiring to design all the pieces and then figuring out how to make them. If it hadn't been for the belief in my work by some wonderful patrons who placed orders for the first ones, and were willing to wait all that time in spite of my protests, there would never have been a dollhouse at all.

Making dollhouses began as an idea that since I have always spent so much effort on accessories for my dolls, that I should put it all together into a "house". I chose a cupboard style for the house itself so as to be a "frame" around the real work, which is all the individual things. There are over 125 individual pieces and sets including two dolls whose house it is and many of the pieces are to be seen on pages of my website. Everything that goes into the dollhouse is part of a complete artistic statement where all the items, their colors and textures were thought out in relation to each other. The style of the house and all its contents is in an Early American theme - my favorite period of things. This style was humble and simple, but often not without a little touch of the maker say in a curve where one wasn't needed or using pleasing colors to enhance the piece when it was done. Time has shown just how appealing this is as real antiques of this type are amongst the most sought after and carry some of the highest price tags. As much as possible, everything works - drawers open and so do cupboard doors showing shelves within. Everything may be rearranged, including things on the walls (they are not glued) and the two wall cupboards that have special hangers so that they may change locations. Nothing in the house is purchased except the washtub and even this is carefully treated to remove its shiny newness and then painted. Other things such as the pewter silverware, the baskets and the hand thrown yellow ware pottery were designed by me and carefully executed by other craftsmen friends as is the house itself, for being as large as it is, it requires a real cabinet maker to construct its 2 paneled doors, peaked pediment, base and the stool to sit oneself on in order to play within. It has hidden interior lighting and a storage bin for extra things under the stool's seat.

The Dollhouses were made in two editions, with a total of 24 being made. There were also a few sold as unfinished for customers who were up to the huge task of the careful painting, wallpapering and installing lighting.


All of the items listed below represent many, but by no means all, of the items that were included in the Dollhouse above. The items shown were also included in the Early American Doll Series for which there were clubs (kit and finished) for all items that were possible to kit and provided finished for those who participated in the finished club.
The following items have been part of the Early American Doll Series Club that began many years ago with twelve items and kept going and going. So many people have loved these pieces, which have such a nice scale for 8 or 9" dolls (not traditional dollhouse scale), that I have included them for sale separately. Many of them are pieces which began as dollhouse furnishings for the complete dollhouse mentioned above. Production is very limited, so sometimes we may have to tell you that there will be a wait. Unfortunately, there are no kits for the things in this list. There were many other things in this same scale sold both in kit and finished form, for the Early American Doll Series.
SCALE: For dolls 8-9" tall (Taller cupboards are about 12" tall)

(a) (b)

All items are finished. No kits.


(c) Yellow Ware - Set #1 Dishes for Two (7Pcs)


(d) Yellow Ware - Set #2 Cov'd Potty, Pitcher, Basin


(e) Yellow Ware - Set #3 3 Lg Bowls, Pie Dish, Rolling Pin, Canister


(f) Two-Shelf Platerack


(g) 9-Drawer Spice Chest



(h) Stepstool


(i) Set of Three Braided Rugs (all larger & different - not shown)

(j) Kitchen Things (wooden spoon, rolling pin, wall box, firkin, breadboard)


(k) Handmade Market Basket

(l) Red Painted Dough Box Filled with Rag Balls

(m) Wallbox with Drawer for Sewing Things


(n) Potty with Lift-Lid (fits Yellow Ware Potty)


(o) Painted Wooden Wall Sconce with Pewter Candlestick

(p) Pine Green Painted High Chair (for smaller 3" dolls)

(q) Stool to go with Wing Chair

(r) Upholstered Loveseat
with Quilt

(s) Side Table with Drawer>


(t) Drysink (in pine green) with Wood Basin and Wood Buckets


(u) Setback Cupboard



Additional Accessories for Setback Shelves (wooden bowls, red firkin and set of pantry boxes)

(v) Corner Cupboard



(w) Lift-Top One-Drawer Blanket Chest


(x) Six Board Chest



(y) Hanging Wall Cupboard with Paneled Door



(z) Blue Two-Door Cupboard or Wardrobe



(aa) Fabric Cupboard with Drawers and Fabrics



(ab) Gardening Things


(ac) Lift-Top Secretary
and Diary

(ad) Washstand Set (see photo below)

(c)< (d)
(e)
(f) (g)
(h)
(j)
(k) (l)
(m)(n)
(o)(p)(q)
(r)
(s)(t)
(u)(v)
(w)(x)
(y) (z)
(aa) (ab)

(ad) Washstand Set - basket and rug not included.



DISPLAY CASE FOR THE EARLY AMERICAN DOLL SERIES

A Display Case was designed to hold the original items in the Early American Doll Series and plans to build your own are free. Email Gail at gailwilsondesigns@gmail.com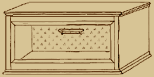 Display Case Plans
Dimensions: 35" wide x 16" tall x 15' deep



Of all my work, the shadowboxes are one of my favorite things because they combine in a small setting lots of small things and lots of color. The painted wood boxes have removable lids and glass fronts that open so you can get at things and rearrange even after it is hung on the wall. The back wall is fabric covered and there is interior lighting to show off the contents.

ORIGINAL SHADOWBOX (16"w x 10"tall x 4"d)- This one is an old favorite that showcases tiny toys and doll outfits on a she lf-pegrack. 15 items in all. (Choice of colors on box)




THE SEWING ROOM (13"w x 12"tall x 8"d) The Sewing Room has a handmade basket, and a cupboard filled with fabrics and sewing accessories. Included in the 21 items is a cross stitch sampler, a handmade basket, and a tiny raggedy Ann. A peg-wooden doll waits for doll clothes in her very tiny chair and a coordinating braided rug sits on the floor.





THE LAUNDRY ROOM (13"w x 12"tall x 8"d) - This theme pulls 16 colorful items together that include a handmade laundry basket with laundry, an antiqued washtub, scrub board, drying rack, stool, clothespins and carrying box, pegrack on the wall with hanging clothes and small accessories. Of course there's also an ironing board and flat iron sitting on a braided rug.





SMALL THINGS (17"w x 12"tall x 5"d) - Has 13 items, including 9-drawer spice box, fabric cupboard, sampler,two Shaker boxes, peg-wooden doll, iron, spoolrack, pin cushion, slate, set of spools and cow pulltoy.

THE EARLY AMERICAN DOLL SERIES SHADOWBOX (19"w x 14"tall x 8"d ) - 22 items from this best loved series, including the doll and her doll both in chairs with a mix of items to balance the space and the colors.