1800's STYLE PAPIER-MACHE DOLL KIT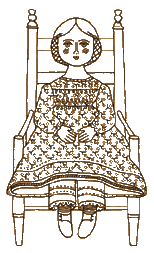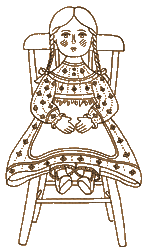 This kit, evolved from my dollmaking retreats, makes a 12" cloth doll with a molded papier-mâché head from my original molds made just for this kit - similar to my first 14" limited edition ones (different molds and size). Like dolls in this medium from the 1800's, these have hand-stitched fingers in painted cloth made to look and feel like authentic leather ones true to this type of doll. Painting made easy by detailed charts and close-up photos - mistakes are easily rectified. Her hair is mohair made into a wig on a linen foundation you will mold (different styles are offered including a curled type). Although all other supplies and notions are given, besides stuffing, you will need to choose your own dress and optional apron fabrics, since these choices will make each doll individual. This doll will be a treasure. Originally offered in 2000.

These dolls no longer available.

REMEMBER ANGEL - 2002 ANGEL
Every year I have to meet the challenge of a new angel. This angel was made post September 11 and in style the head and wings are taken from some wonderful old slate gravestones from the 18th Century. She is about 15" tall, but with a molded primitive papier-mache head. She holds a hand-embroidered quilted banner in her hands that proclaims "Remember", appropriate for all of us for that year and all years. Of course she is quite vintage looking with her antique finish. Her color is old mustardy browns.

Kit for Remember Angel $58.00 Add to Cart
Extra Molded Head for Kit Owners $20.00 Add to Cart
Finished Angel $195.00 (Finished Item Not Available)